What makes us the best matched betting service?
Years of matched betting experience coupled with the best customer experience.
We know what it takes to keep our members happy and make them plenty of money. Check out our features below…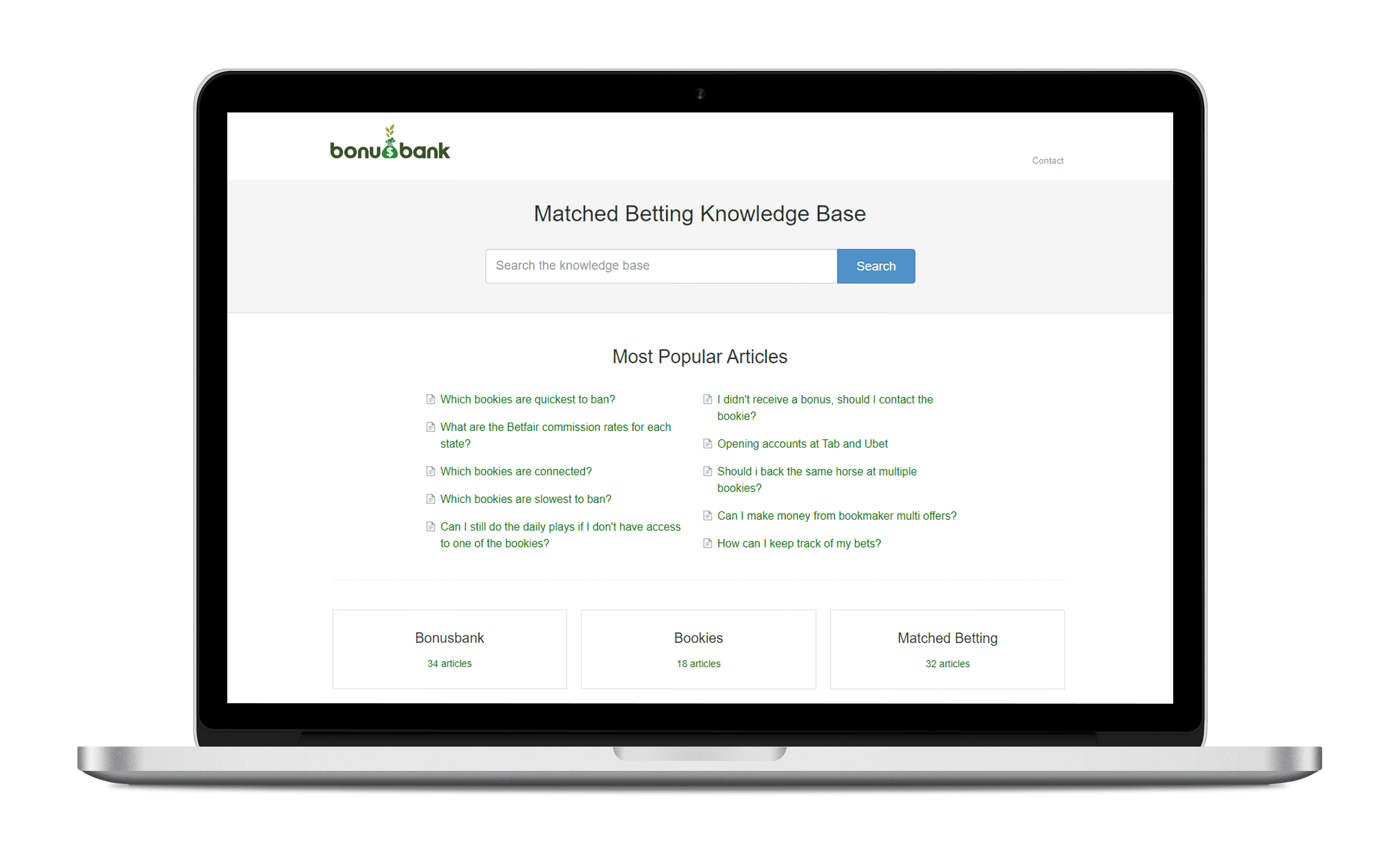 Learning Hub
Learn matched betting the easy way. Follow our straightforward tutorials and become a matched betting expert in no time.
More of a visual learner? No problem, we have a range of video tutorials that will guide you through various different strategies.
We also have a vast knowledge base which contains answers to the most common matched betting questions.
SOFTWARE
Bonusbank has the best matched betting software in Australia. Our ATM oddsmatcher lists more bookmakers and markets than you will find anywhere else. 
By searching all of these markets and comparing them with Betfair we are able to identify where you can get the best returns from your bonus bets.
We also have Australia's only dutching software, plus one-of-a-kind software for the awesome Bet365 2up promo.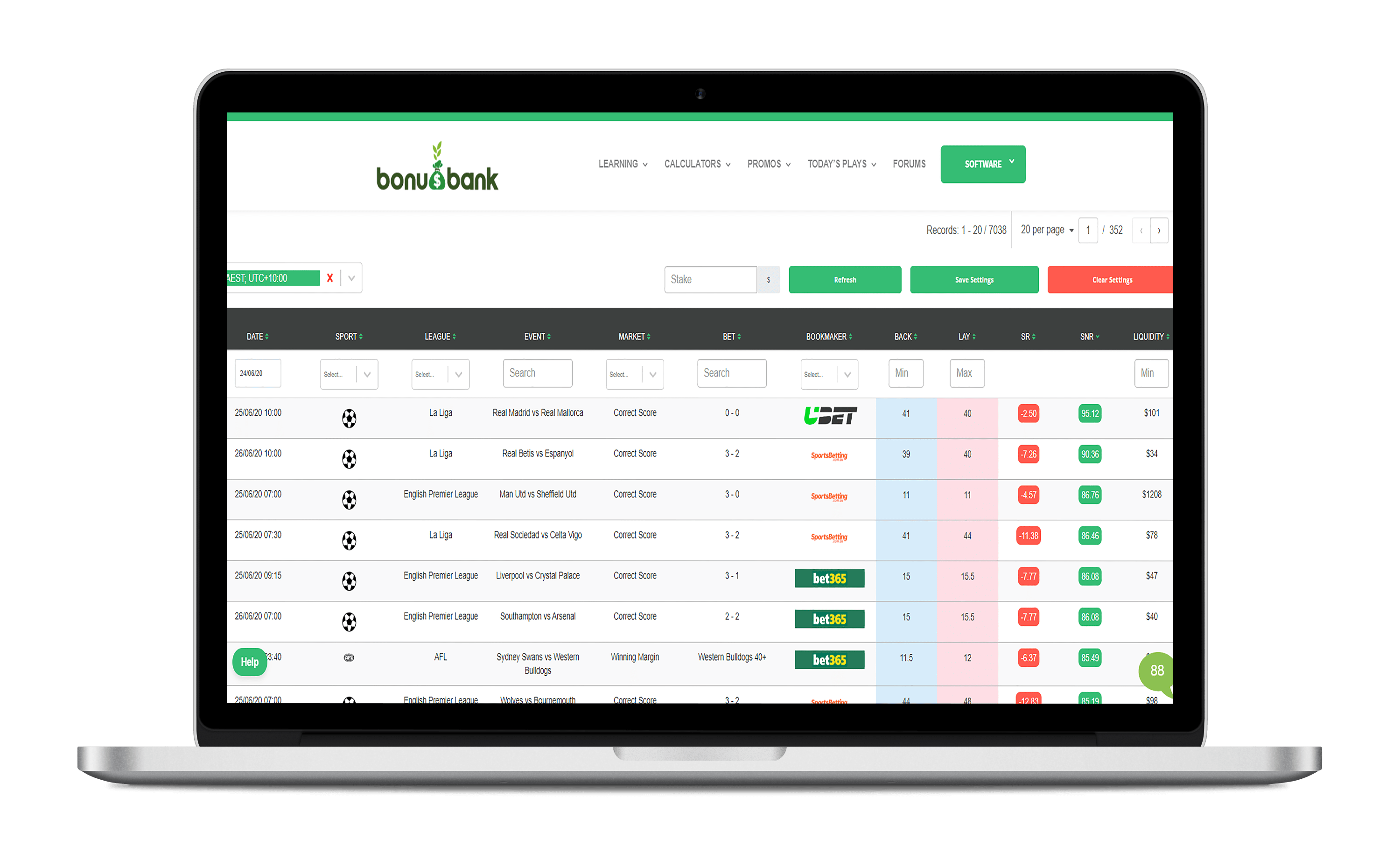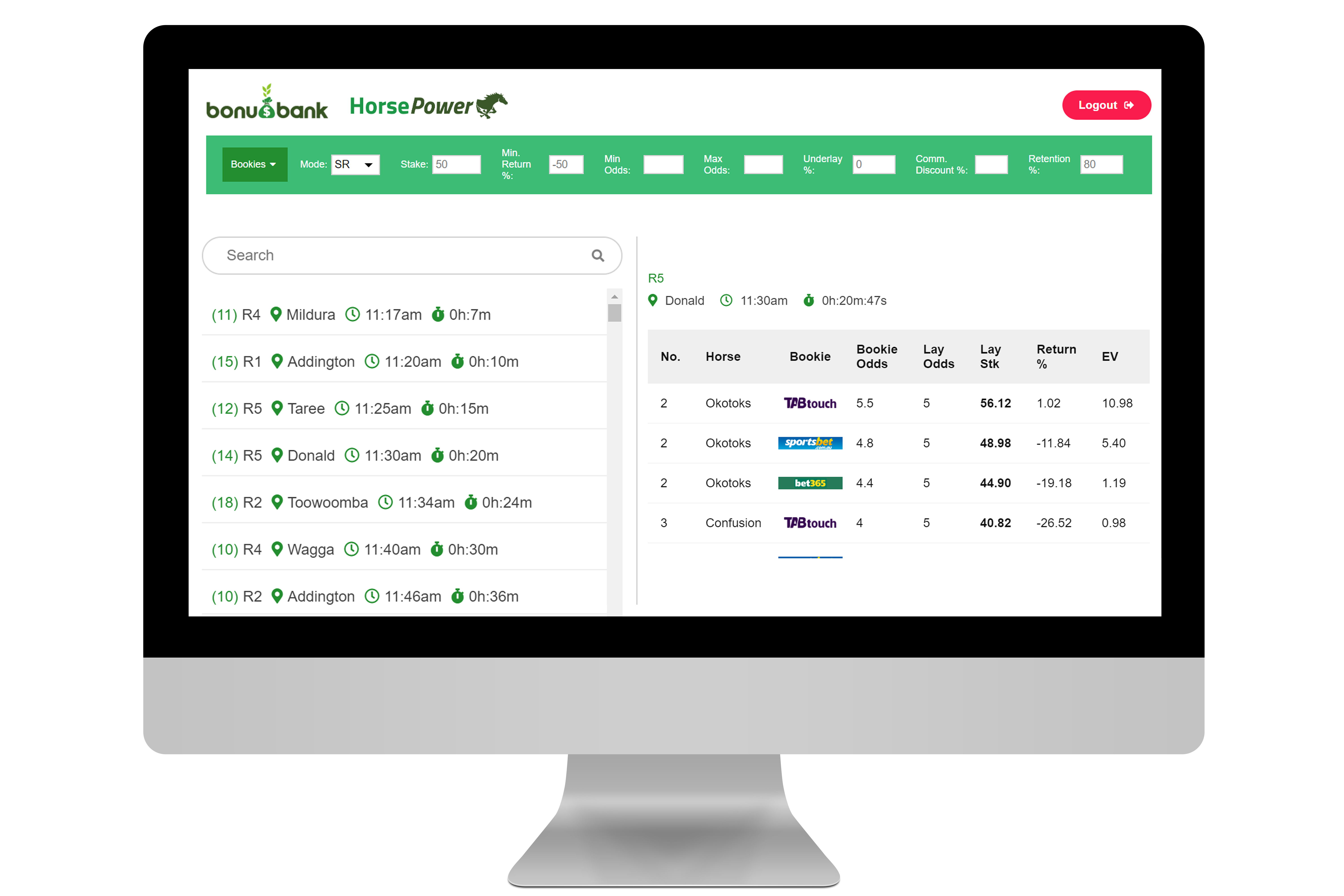 CHROME EXTENSIONS
In addition to our on-site software, we also have two chrome extensions that will enhance your matched betting experience.
HorsePower is designed to maximise your profits from the many available racing promos. It quickly compares odds and works out their expected value and appropriate lay stake, saving you time in fast-moving markets.
ATM Alerts is a notification service that lets you know when matches meeting your criteria appear on the ATM. This can help you get more from your bonus bets & find arbitrage opportunities.
CALCULATORS
Step away from the spreadsheet! We have the widest range of matched betting calculators available to help you accurately calculate your stakes and ultimately save time.
Work out simple back/lay requirements, or use the other calculators when exploring more advanced strategies.
You can easily calculate expected value, balance your dutches, and work out how to lock in a profit with multis.
Click on the links below for more info.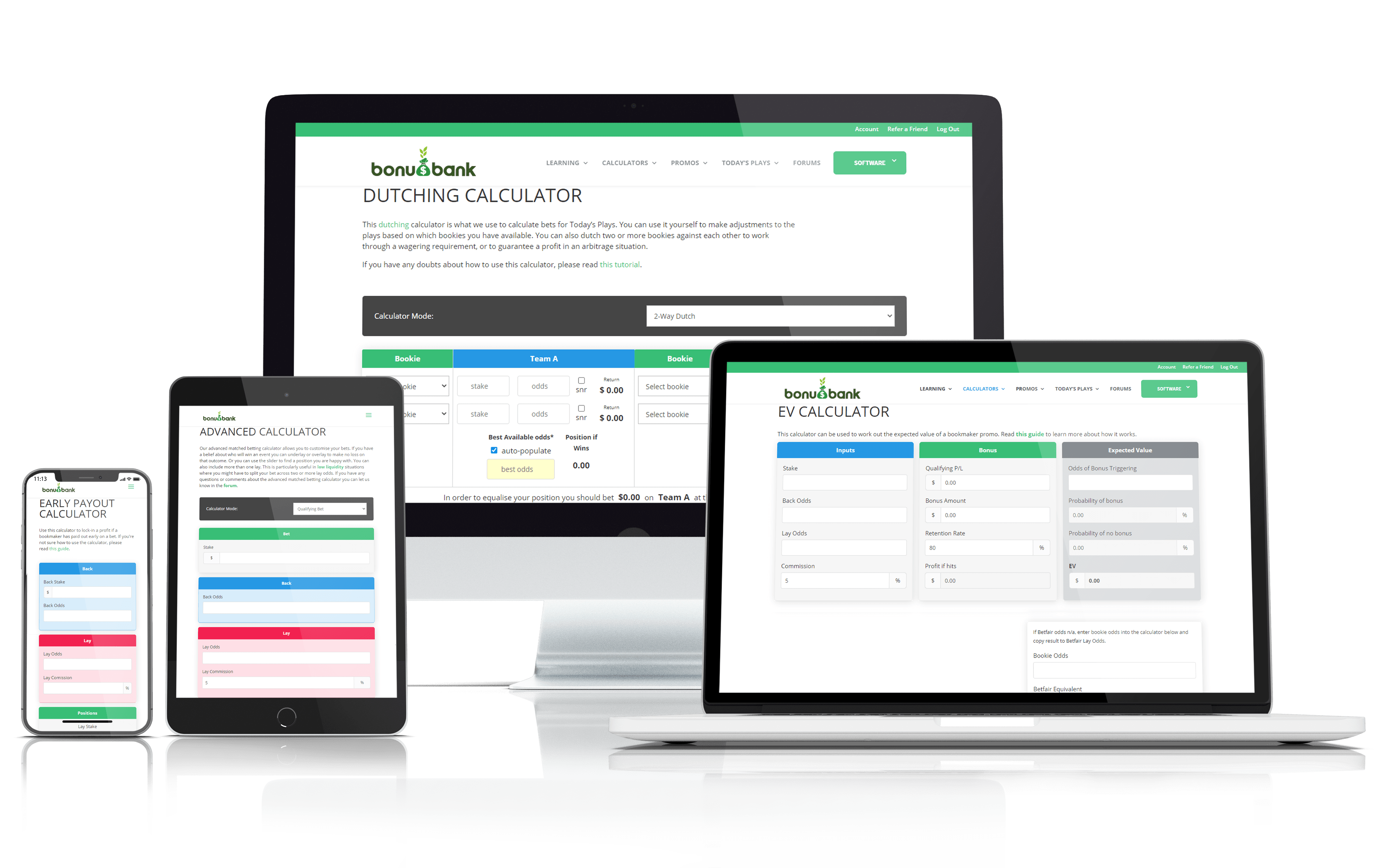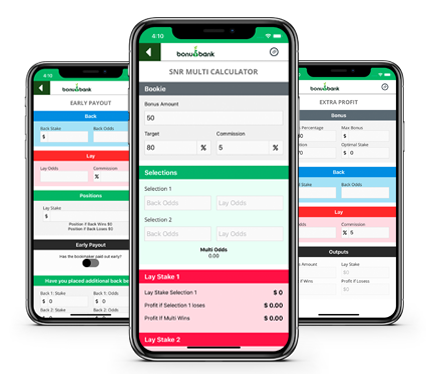 MOBILE APP
Make money on the go with Australia's only matched betting app.
Download the FREE app today to access our beginner tutorials and basic matched betting calculator.
Premium members can also access six more calculators, all of the upcoming promos, and our recommended plays.
Discord Chat
The Bonusbank Discord server is where you will find Australia's most active and knowledgeable matched betting community.
Within it you will find channels where members share information and advice on topics like 'newbie questions', 'sign up bonuses', 'sustainability', and 'arbitrage'
There are also channels for 'off-topic' discussions on things like 'investing' and 'alternative side hustles'.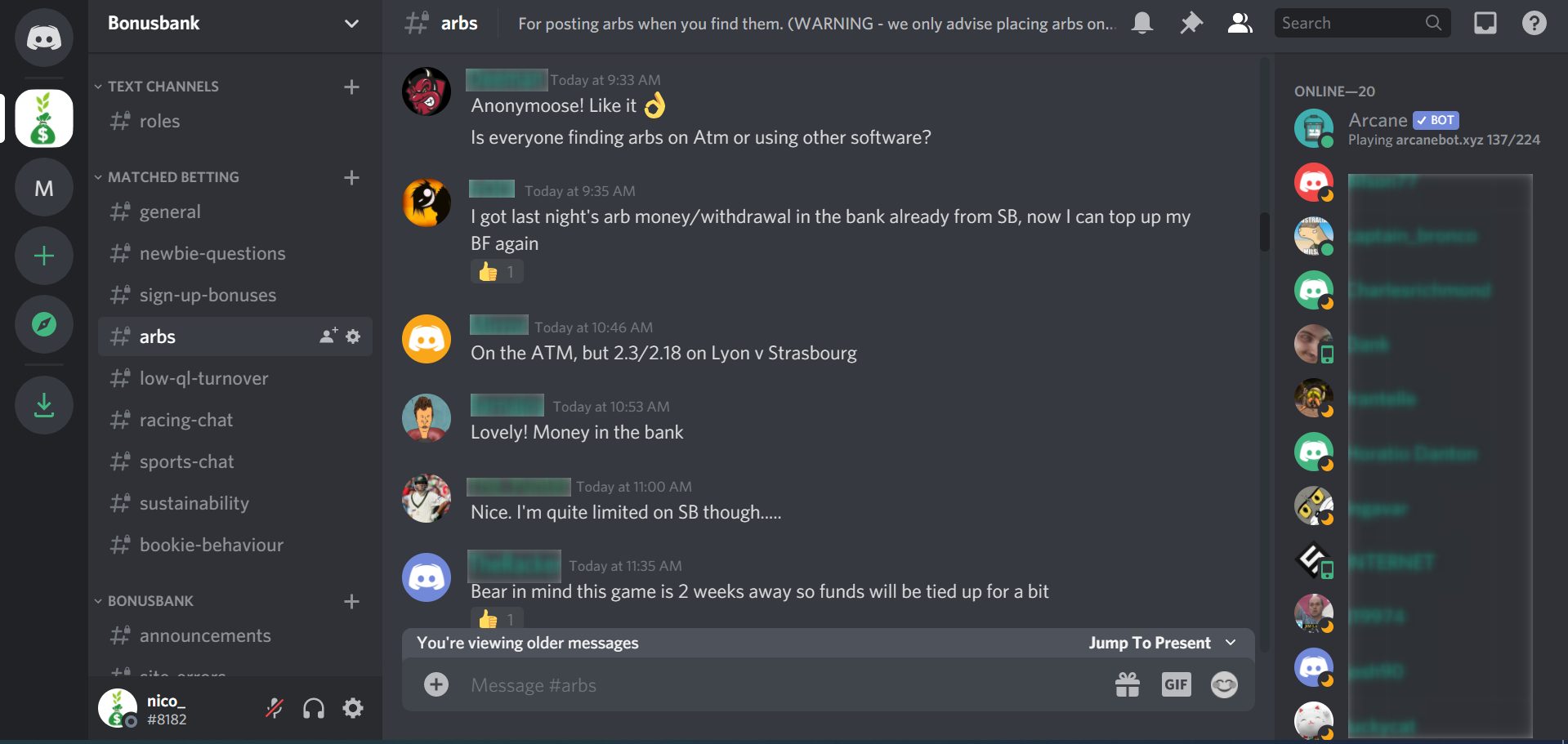 Most importantly, there is a great sense of community and a healthy dose on banter (and memes) as we beat the bookies together.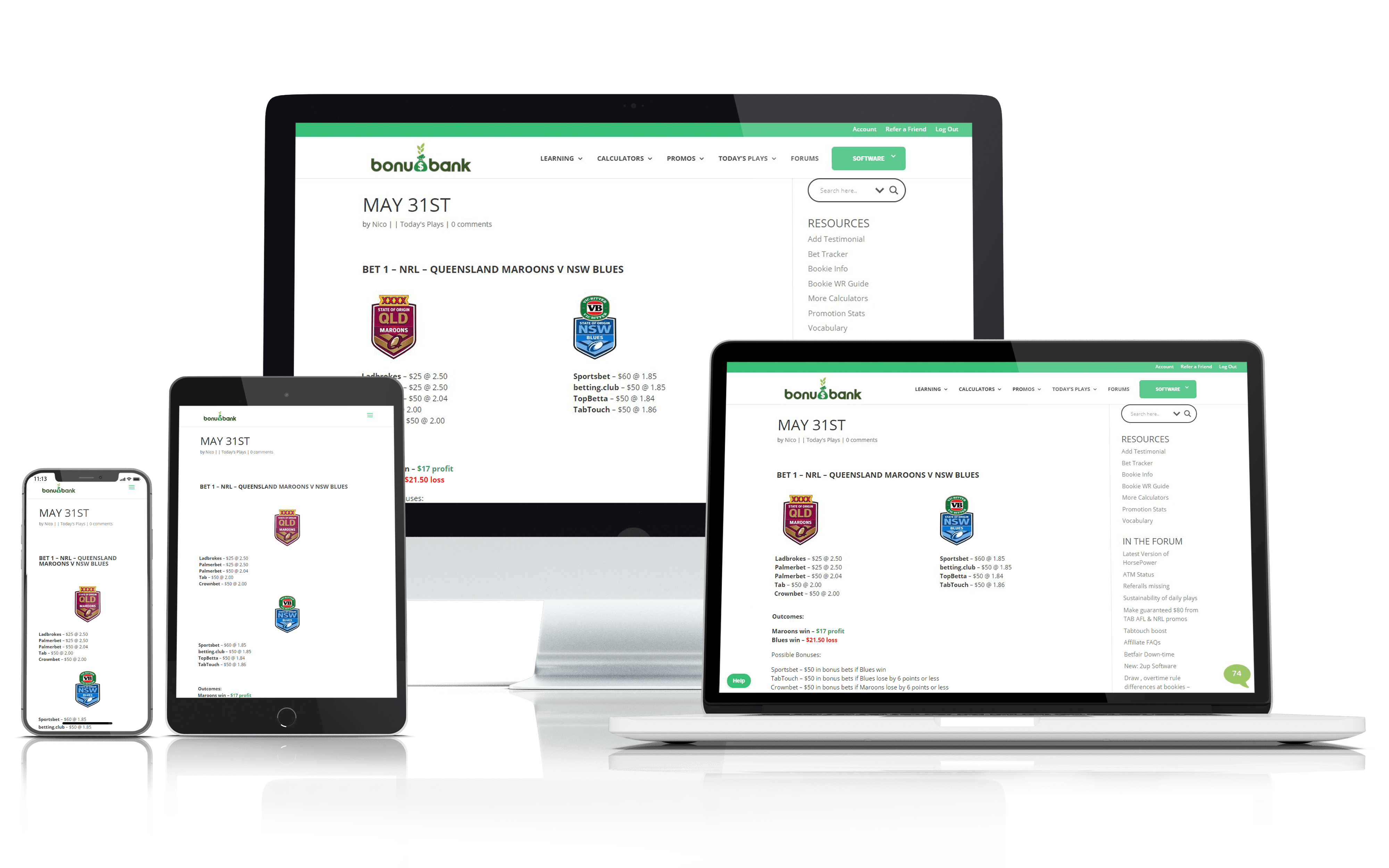 TODAY'S PLAYS/PROMOS
Every day we search for the best available
promos
and advise our members on how to take advantage of them.
It only takes around 10-15 minutes per day to follow these bets, which have averaged over $1000 in profit per month since we launched in April 2017.
excellent customer service
We pride ourselves on having excellent customer service. Have a query about matched betting? We're here to help.
tax free income
Matched betting profits are completely tax-free. Just one more reason why it is the best side-hustle around.
Bookie Info
We stay up-to-date with the latest bookie behaviours, and keep you posted on the best way to approach them.
profit tracker
Track your profits with our easy to use spreadsheet. Available for both Microsoft Excel and Google Sheets.
Affiliate Program
Spread the word about bonusbank and get paid! Earn 25% lifetime commission for each member you refer.
TESTIMONIALS
We've helped over 10,000 Australians and New Zealanders make a guaranteed profit. Here's what some of them had to say…