If you've followed all of our tutorials so far – and been able to answer the quiz questions correctly – you should now be ready to tackle your first sign-up bonus and start making money.
You're probably feeling a little bit nervous, but don't worry. In this tutorial we are going to walk you through every step of the process.
We will be signing up to probably the best known bookie in Australia – Tab.
The signup offer that we have used in this example ("Deposit $20, get a bonus bet of $100") is no longer available. However, feedback from our members suggests that even after the implementation of the National Framework, Tab still offer a "Deposit $100, get a bonus bet of $100" offer to new members after signing up.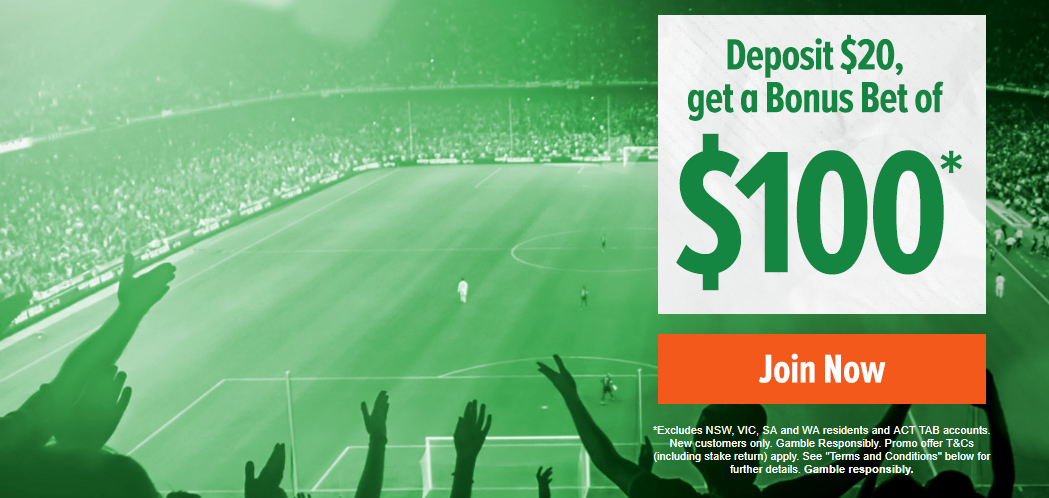 Terms & Conditions
It is important to always check the terms and conditions before starting the sign-up process so let's look at them now:

If you live in NSW, VIC, WA or SA, the first term is probably the one that jumps out at you. As we mentioned in our earlier tutorial, this is something you will be seeing a lot. However, that doesn't mean that you shouldn't complete the sign-up. Even if you don't receive a new customer bonus, Tab has some great existing customer promos that are worth signing up for.
Term 2 is also important here. PoLi deposits will not receive the bonus so it is best to use a card. The other terms let us know that the bonus will expire after 30 days, and that it is an SNR bonus.
If we were to delve deeper into the Promo Offer T&C's we would also learn that the initial deposit has to be turned over at least once at odds of 1.50 or above.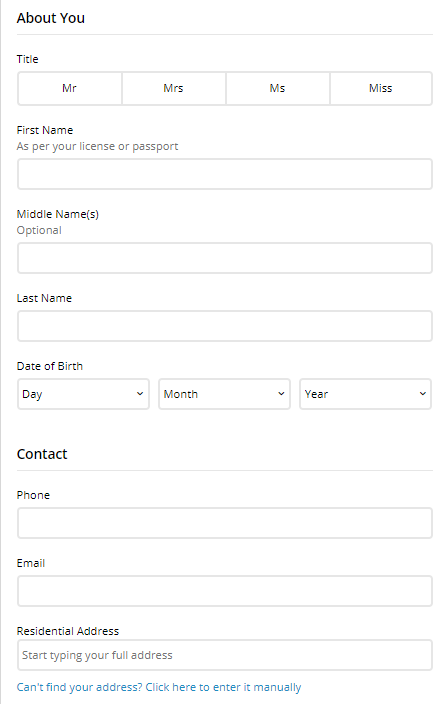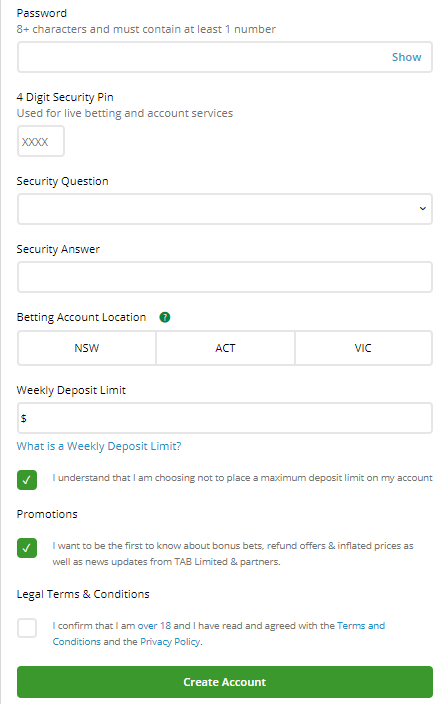 The Application
After you click on 'Join Now' you will have to fill out a straightforward application form. Make sure you choose a username that is different from your bonusbank username. You should also choose a password that is unique to this bookmaker.
Tab ask you to select a 'Betting Account Location'. This is something that is unique to Tab, and it mostly relates to Tote betting. We're not interested in Tote betting (don't worry if you don't know what it is), so this doesn't really affect us. In general we would recommend picking NSW or VIC if you are from those states, and picking ACT if you are from anywhere else.
You should leave the 'Weekly Deposit Limit' box blank, and make sure that you are opted-in for promotions. You can then create the account.
Once you have created the account you will be given the option to deposit. We recommend skipping this step just now and continuing to the next screen where you will be prompted to verify your account.
Verification
The verification process is straightforward. Just enter the details of any documents that you have.
If you don't have any of the requested documents you may have to get certified copies of your passport and bank statement from a Justice of the Peace, or another authorised person. This is easy to do, it just takes a little more time.
Please do not make any deposits until your account has been verified as, as you can see, your account could be frozen and you may be unable to access your funds.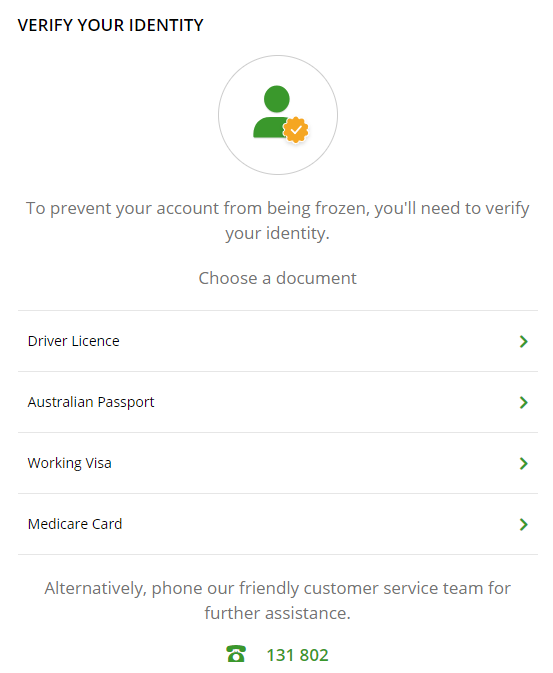 Bonus Time
Once you are verified you can then make your deposit. There should be a message telling you that you have a deposit offer on the right-hand side of the homepage, so just click on that and enter your payment details.
Once you have made the deposit you will receive a message confirming that you have been given a bonus.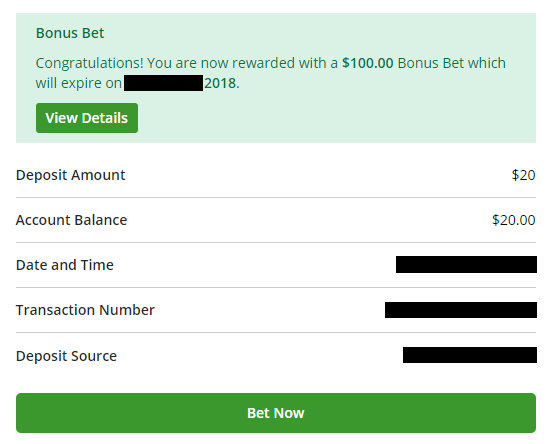 Placing a Bonus Bet
Now that you have your bonus bet it is time to find something to bet on using the bonusbank ATM. So open up the ATM (if you are a free member you will only have access to the ATM Lite), choose Tab from the bookmaker dropdown, and make sure the data is sorted by the SNR column.
For our bonus bet the best option was a bet on the 'Winning Margin' market of the match between the Broncos and the Dragons. However, that bet would be at very high odds, and would have required a lot of money in Betfair. So, instead we have gone for the 2nd option on the list, a draw between Kansas and Orlando.

The software told us that the back odds for a draw were 5.00 and the lay odds of were 5.40. This will give an SNR return of $71.03 from our $100 bonus bet.
To get some more detailed information, we then clicked on the green 71.03 in the SNR column to open up the pop-up calculator.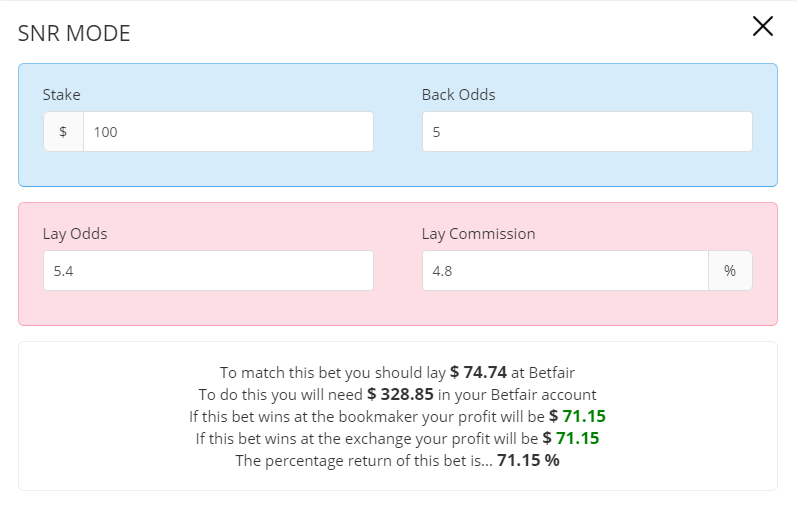 The calculator already had the correct odds entered, but we have added our stake and also edited the commission rate. Standard Betfair commission for soccer is 5%. However, the account we are using has a commission discount so we have edited it to 4.8%.
The bottom section tells us that our lay stake at Betfair should be $74.74, and that our liability (the amount we need in our Betfair account) is $328.85. Our profit has increased to $71.15 due to the commission discount.
Next we want to check that the info from the software is accurate, so we open up the market at both the bookie and betfair:


Everything looks good so we can now place our bets.
First we will set up the bookie bet by clicking on the odds to add the bet to the betslip. We can then select the option to use the bonus bet, as shown in the images below: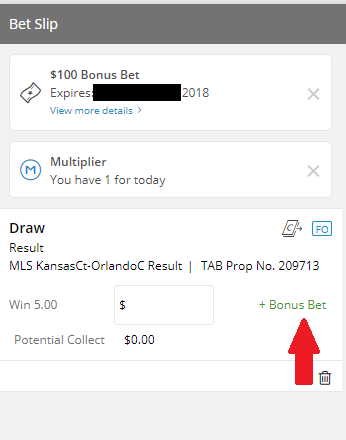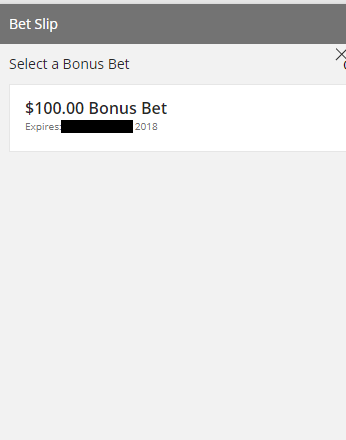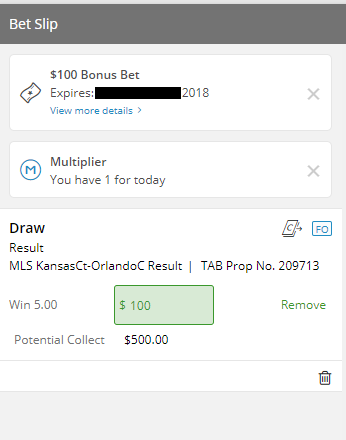 Before hitting 'Place Bets', we now want to go over to Betfair and set up our bet there.
We click on the pink lay odds (not the blue back odds) and enter the lay stake that we got from the calculator earlier. The liability should match what the calculator told us.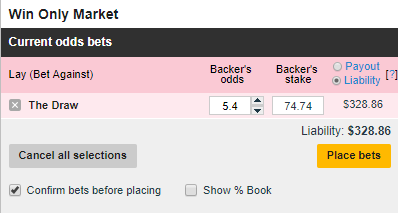 Once we're happy that everything is as it should be we can confirm both bets.
Outcomes
We can see from the images below that if the match ends in a draw we will win $400 at the bookmaker but lose our $328.86 liability at Betfair. Giving a profit of $71.14.
If they do not draw we will no longer have our bonus bet but we will win $71.15 at Betfair.
(Note: it is common for figures to differ by a penny due to rounding when Betfair commission is applied)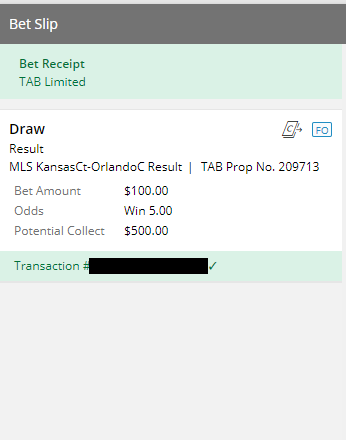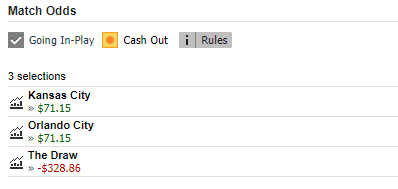 Wagering
The final thing that we have to do is wager our deposit. This is very similar to what we have just done. The only difference is that we will be looking for matches using the SR column of the ATM and using the SR calculator.
As our deposit was only $20, we will probably lose less than $1 when completing the wagering. That should leave a total profit of around $70.00.
Now it's your turn…
If you haven't already, open up your Betfair account using the banner below. You can then check punters.com.au to see what the best promo they have is. If they don't have any just go directly to the tab website where you should receive an offer after signing up.
If you have any questions at any stage of the process just head over to our Facebook group, or the Free Members Forum, and post them there. We're always happy to help and there is no such thing as a stupid question.
We also have a thread set up just for checking bets. If you have any doubts you can post in the thread and someone will double-check everything before you hit confirm.
Good Luck!