Money for Nothing!
Well not quite nothing, but Australian bookmakers do give away free cash every day. Here at bonusbank we use a risk-free technique called Matched Betting to help you get your hands on some of it. Check out our FAQs to find out more!
Matched Betting Tutorials
Of Bookmaker Sign-Up Bonuses
Every Month From Existing Customer Offers
Bonusbank Members Sharing & Helping Each Other
Since joining bonusbank I have more than tripled my initial investment. The process is easy to learn and it requires only minimal time commitment. So if you're looking for a way to make some extra cash, this is the site for you.
Matt
When I joined bonusbank I had limited betting experience, so I was quite cautious at first, but the bonusbank tutorials, forum and software made it easy. Since then i have made an average of $1000 per month!
Paddy
I love sports, and have placed quite a few bets in the past, but never had much success as a gambler. With matched betting I get to enjoy the games knowing that I'll profit no matter what happens. That's a great feeling!
Scott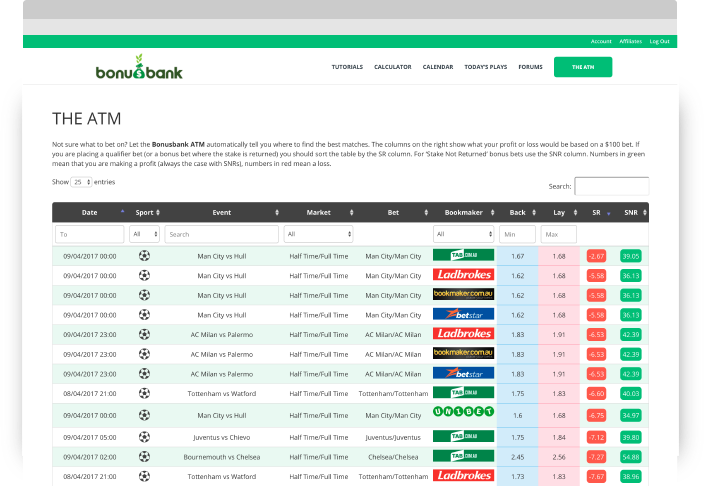 Tutorials
Our tutorials will take you from a complete beginner to an advanced matched bettor in just a couple of months, making money every step of the way.
Support
Our support staff have been matched betting since 2008, so they're well prepared to answer any questions you might have. Not to mention the community of fellow matched bettors you'll find in the forum.
The Software
The Bonusbank ATM is the only piece of software of it's kind in Australia. It saves you hours by telling you where to find the best matched bets. When combined with our calculator it takes all the guess work out of matched betting.
Today's Plays
Every day we search the web for the best Matched Betting opportunities and then deliver them to our members in our 'Today's Plays' section. It takes members just 5 minutes a day to place these bets which make an average profit of $100 per week.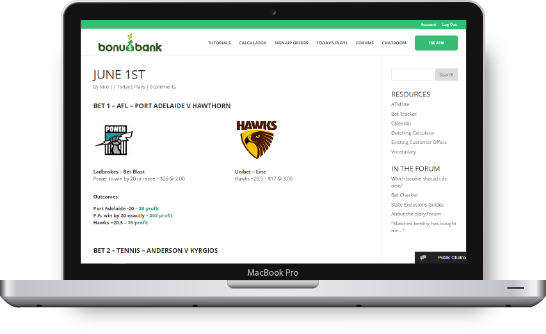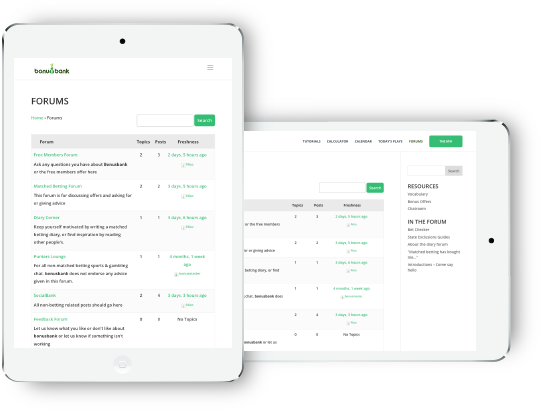 The forum
When learning something new it's always good to have people to share the experience with. Our forum is a great place to chat with other new matched bettors and to get advice from more experienced ones.