We know that the concept of matched betting can seem a bit confusing at first. Most people need to read through our tutorials a couple of times before it starts to make sense, and that takes time.
In order to make things as easy as possible we have created an app that includes all of our beginner content, so that you can learn how to profit from bookie promotions wherever you are.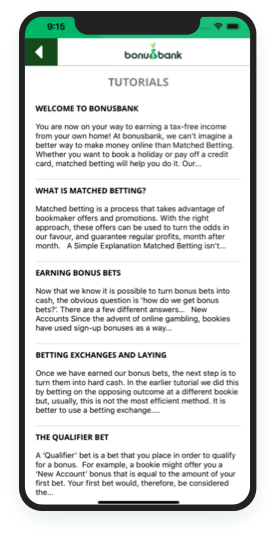 Comprehensive Tutorials
The app contains our nine beginner tutorials which explain how matched betting works, and walk you through each step of the process.  
There is even a video tutorial where you can watch us extract money from a bonus bet, and a step by step guide that you can follow to make your first profit.
Test your knowledge
Throughout the tutorials you will find quick quizzes which will allow you to test your understanding and make sure that you are on the right path.
If you are having difficulty with any of the tutorials you will also find a link to our Free members forum where you will find people happy to help you get back on track.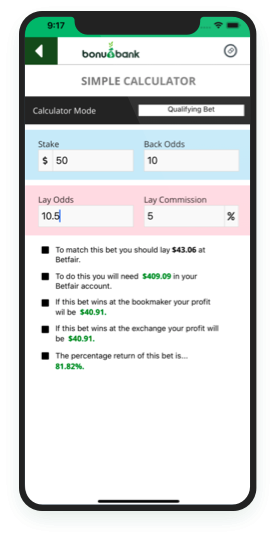 EASILY WORK OUT STAKES
Unless you are a maths whizz a matched betting calculator is essential for working out the correct stakes for your bets.
Our simple calculator can be used for both cash bets and bonus bets, and is extremely easy to use. In fact, it's such a handy tool that many of our advanced members downloaded the app just to use it!
EVERYTHING YOU NEED
The Bonusbank Basics app makes it easier than ever to start making a regular side income from bookmaker promotions.
The app is available on both iOS and Android, and is completely free to download and use. You don't even have to enter any personal details.
Download it today and begin your matched betting journey!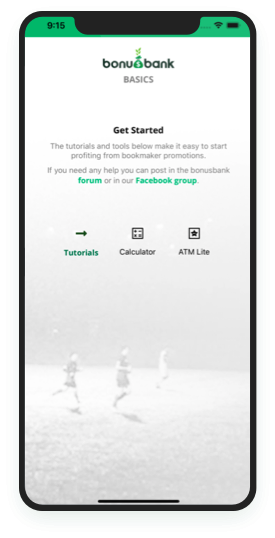 SIGN UP TODAY
Join Australia's biggest and best matched betting community and start making a regular second-income from bookmaker promotions.