There's no such thing as a sure-thing in horse racing…but there is a way to guarantee a profit over the long-term. By taking advantage of bookmaker refund promos you can turn the odds in your favour. This post will show you how. 
The promos we are referring to are the ones where the bookie will offer you a bonus bet or cash refund if your horse finishes 2nd or 3rd. You can find them on the major races every Saturday, and often during the week as well.
Please note that these offers are recommended for experienced matched bettors as the odds tend to move quite quickly. If you're new to matched betting, we recommend starting with the sign up offers as detailed in our free tutorials. 
To take advantage of these offers, it's essential to have a Betfair account. Betfair is an exchange for backing and laying certain outcomes. (Please see our "What is a Betting Exchange" tutorial here). 
Also, you will need to sign up to a number of bookies. The best ones for these type of offers are; CrownBet and Sportsbet. 
The simplest way to take advantage of these offers is to just back a horse. If the horse finishes first, you win. If the horse finishes 2nd or 3rd, then you receive a bonus bet matching your stake. Usually this is capped at $50. The problem with this method though is that there is a lot of variance. You could easily go on a long losing run, and it isn't good for the nerves. 
Our recommendation at bonusbank is to back and lay the horse. This approach leads to steadier long-term gains and removes the negative emotions from losing your stake. 
In order to make the most money from these offers you want to ensure that you keep qualifying losses to a minimum. Usually, this would be by backing and laying the 1st, 2nd or 3rd favourite. An acceptable loss would be between $1 – $6. If the horse finishes 2nd or 3rd, you can use our one-of-a-kind ATM software to turnover the bonus bet. Usually, this would be at a retention of 75%, however the ATM can have upwards of 80%.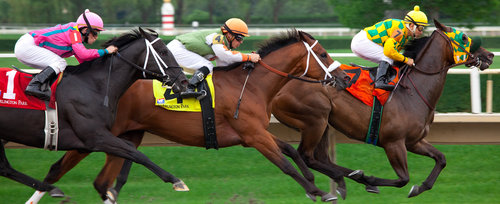 So what are the steps?

 
Go to www.bonusbank.com.au/promos.

 This is where we post every single horse racing promotion that is currently taking place in Australia. 

On your laptop or mobile device, ensure that you have access to both Betfair and the bookie which is running the promo e.g. Crownbet. 

Look for a horse with similar back odds (bookie) and lay odds (Betfair). Best time is usually in the last 5 mins before a race begins.
Back the horse at the bookie with the maximum stake allowed (usually $50), Use the simple calculator to determine how much you should lay at Betfair. Also take into account the commission required for that race. Typically 5%, 6% or 10%.
Place the bet at the bookie and the lay at Betfair.
Watch the race and if the horse finishes 2nd or 3rd, you will get the $50 bonus or cash back refund.
Use the ATM to convert the bonus bet into cash.
Withdraw the cash into your bank account and then treat yourself to something nice 🙂