Matched betting (sometimes referred to as bonus bagging or promo arbitrage) is a simple mathematical process that makes it possible to profit from bookmaker promotions with no risk.
For some people this can seem to good to be true, and they are reluctant to give it a chance.
However, anyone who is willing to commit a little time and effort will quickly realise that it is an amazing way to make money online.
In fact, it is probably the most profitable side hustle in Australia.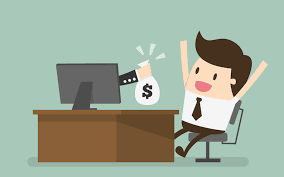 How Does Matched Betting Work?
99% of gamblers lose money, so bookies love it when they attract a new customer. It usually means more profit for them.
To try and attract more customers, bookies offer bonuses and promotions. These bonuses allow us to make money through matched betting.
After placing a bet using the bonus cash, we use Betfair Australia (a betting exchange) to place a bet on the opposing outcome.
The stake that we use at Betfair is determined by a matched betting calculator. The calculator works out the perfect stake amount to guarantee a profit no matter what happens.
When the match (or race/fight/event) is over there will be one of two possible outcomes:
 
We will have lost our bonus bet at the bookie (which didn't cost us anything anyway) and made a profit at Betfair
We will have made a profit at the bookie and a loss at Betfair. The loss will be smaller than the profit due to the stake that we worked out with the matched betting calculator. This will give us an overall profit.
Is Matched Betting Really That Easy?
For the sake of the example we have simplified things a little bit, but basic matched betting isn't hard.
However, if you are looking to make serious money online you will want to learn some intermediate and advanced techniques.
To help with that, Bonusbank has nearly 30 matched betting tutorials (you can access the beginner ones for free here), and a range of matched betting calculators and tools.
In our chatroom you will also find Australia's biggest community of matched bettors, who are always happy to help newcomers get started on their matched betting journey.
Start your new side hustle by opening a free Bonusbank account today.