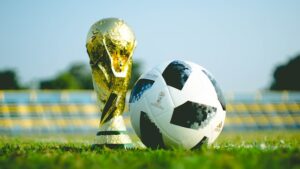 The World Cup is currently on pause for a couple of days so that the players can be fresh for the Quarter-Final stage. The break has also given matched bettors a chance to catch their breath after what has possibly been the greatest ever month for matched betting in Australia.
It was certainly great for Bonusbank members who have been following our daily plays. We smashed our previous best ever month and recorded a profit of $2779.63! 
That means that we have now had four consecutive months of $1000+ profits. In fact, our average for 2018 is now at over $1600 profit every month.
What's more, those figures are based on our advised stakes, which we keep at a conservative level so that all members can achieve them. Some of our advanced members have been applying higher stakes and more advanced strategies, and have recorded even higher profits as a result!
Although the bulk of the World Cup is now behind us, that doesn't mean that the matched betting is over. Once we have caught our breath we will be back at it with AFL & NRL tomorrow, the Quarter-Finals and horse racing at the weekend, and the the final State of Origin game next week.
The money-making opportunities just keep coming 😀