Make Money Online With Matched betting
Australia's Best Side Hustle!
Every day, Australian bookmakers give away free cash in the form of bonus bets. Here at bonusbank, we use a risk-free technique called Matched Betting to turn those bonus bets into money that you can withdraw straight to your bank account.
Our Matched Betting tutorials, calculators, & software have helped thousands of Australians to take hundreds of thousands of dollars from the bookies. If you're looking for a risk-free way to make money online, there is no better option than Matched Betting!
Matched Betting Tutorials
Matched Betting Calculators
Aussies helped to beat the bookies
Since joining bonusbank I have more than tripled my initial investment. Matched betting is easy to learn and it requires only minimal time commitment. If you're looking for a way to make some extra cash, this is the site for you.
When I joined bonusbank I had limited betting experience, so I was quite cautious at first, but the bonusbank tutorials, forum and oddsmatcher software made it easy to make money. Since then i have made an average of $1000 per month!
I love sports, and have placed quite a few bets in the past, but never had much success as a gambler. Thanks to matched betting I get to enjoy the games knowing that I'll profit no matter what happens. That's a great feeling!
APP
Our matched betting app makes it easy to learn about matched betting and make money from the bookies while on the move.
The app is free to use and contains everything that you need to get started.
Premium members can then login to access even more great matched betting content and tools.
ATM
If you want to get the highest returns from your bonus bets, in the minimum amount of time, you need the Bonusbank ATM.
Our software is constantly comparing the odds at Australian bookmakers and Betfair to find the very best matches.
We also have a chrome extension, ATM Alerts, which can let you know when a selection matching your criteria appears on the ATM.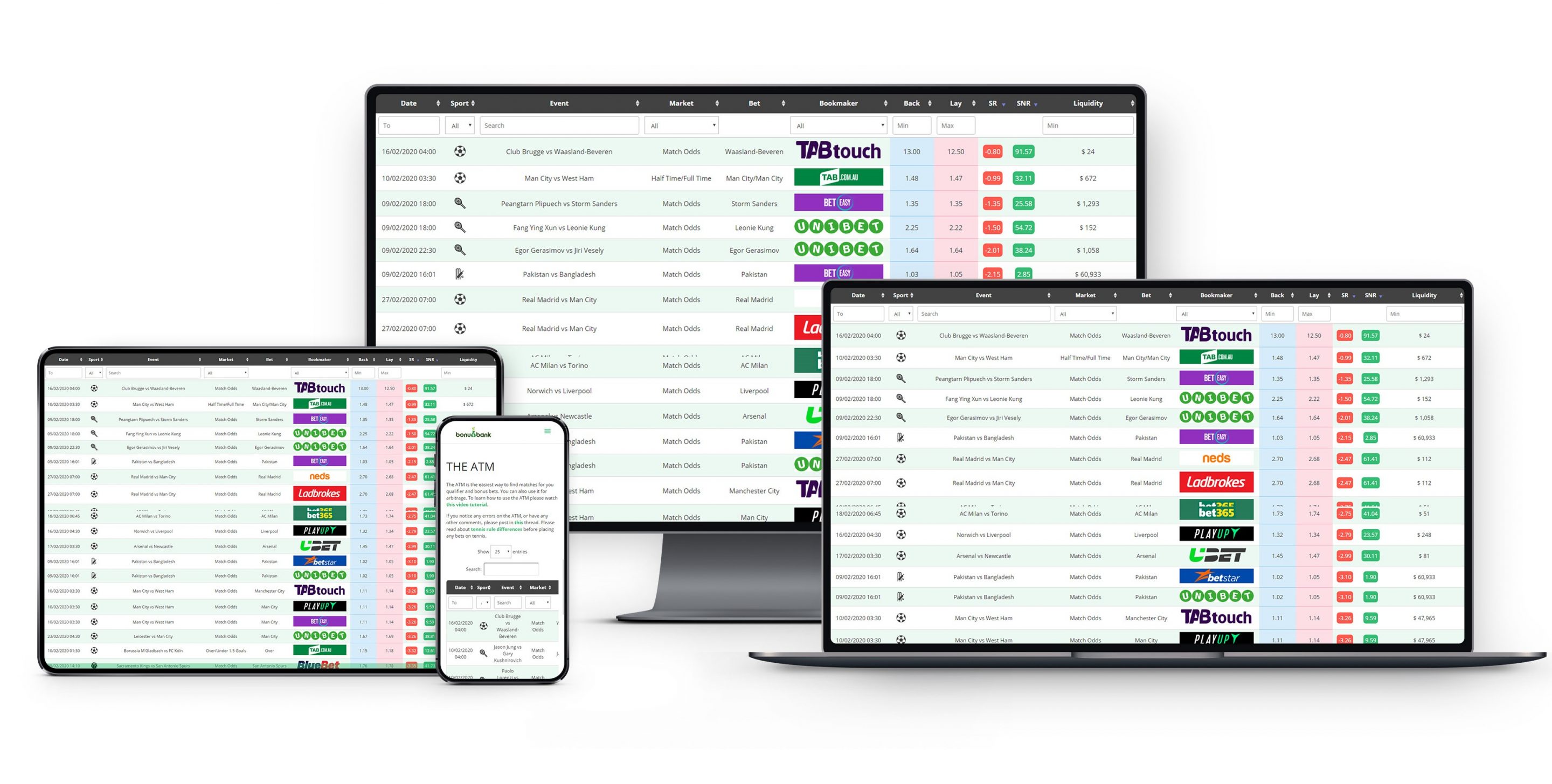 HorsePower
Horse racing promos provide Australian matched bettors with consistent, long-term profits. There are loads of these promos every week and, with the right approach, they can return over $1000 in profit every month.
Our HorsePower chrome extension simplifies the process so that you can quickly identify the best opportunities and maximise your profits.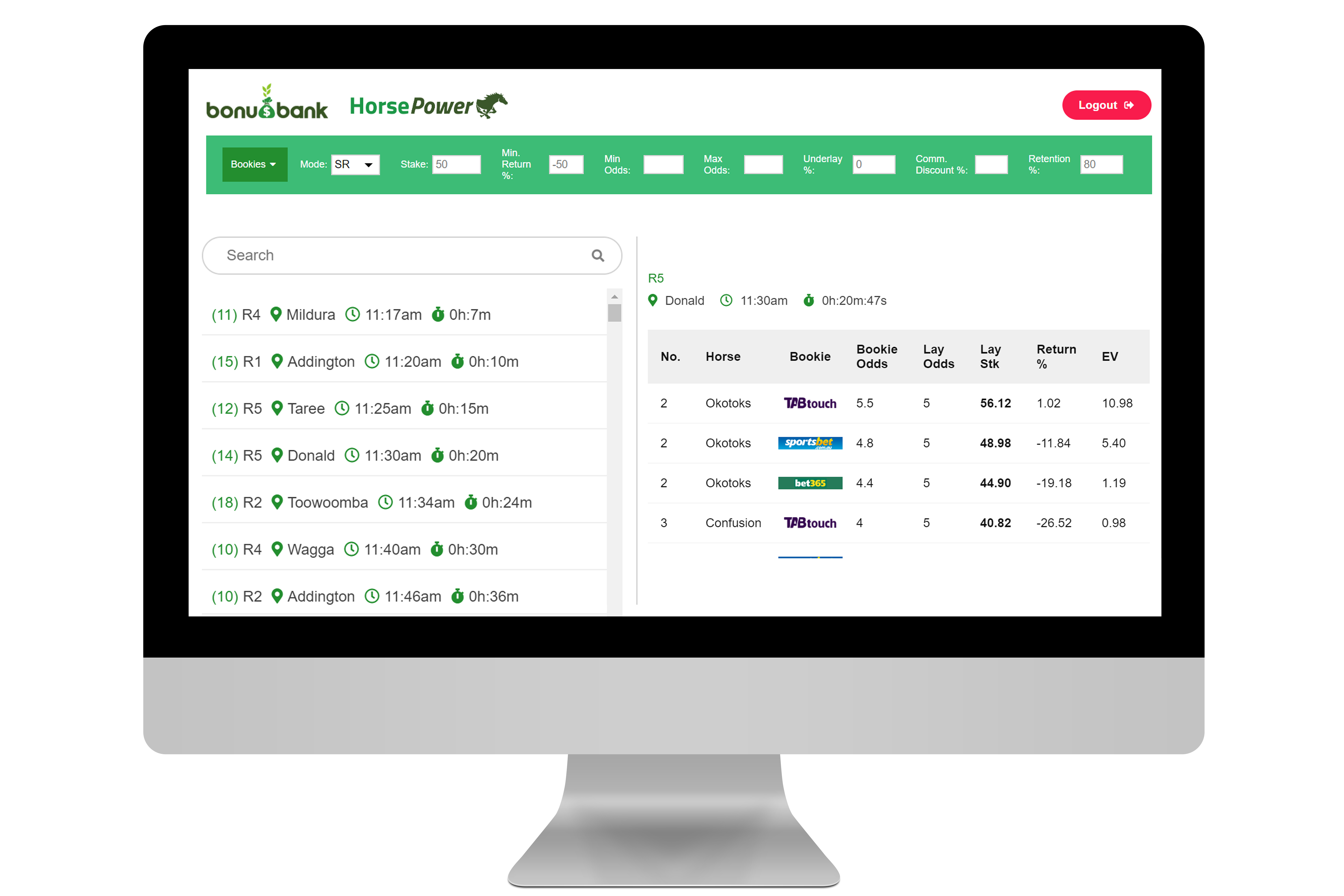 Today's Plays
Every day we search for the best available promos and advise our members on how best to take advantage of them.
It only takes around 10-15 minutes per day to follow these bets, which have averaged over $1000 in profit per month since we launched in April 2017.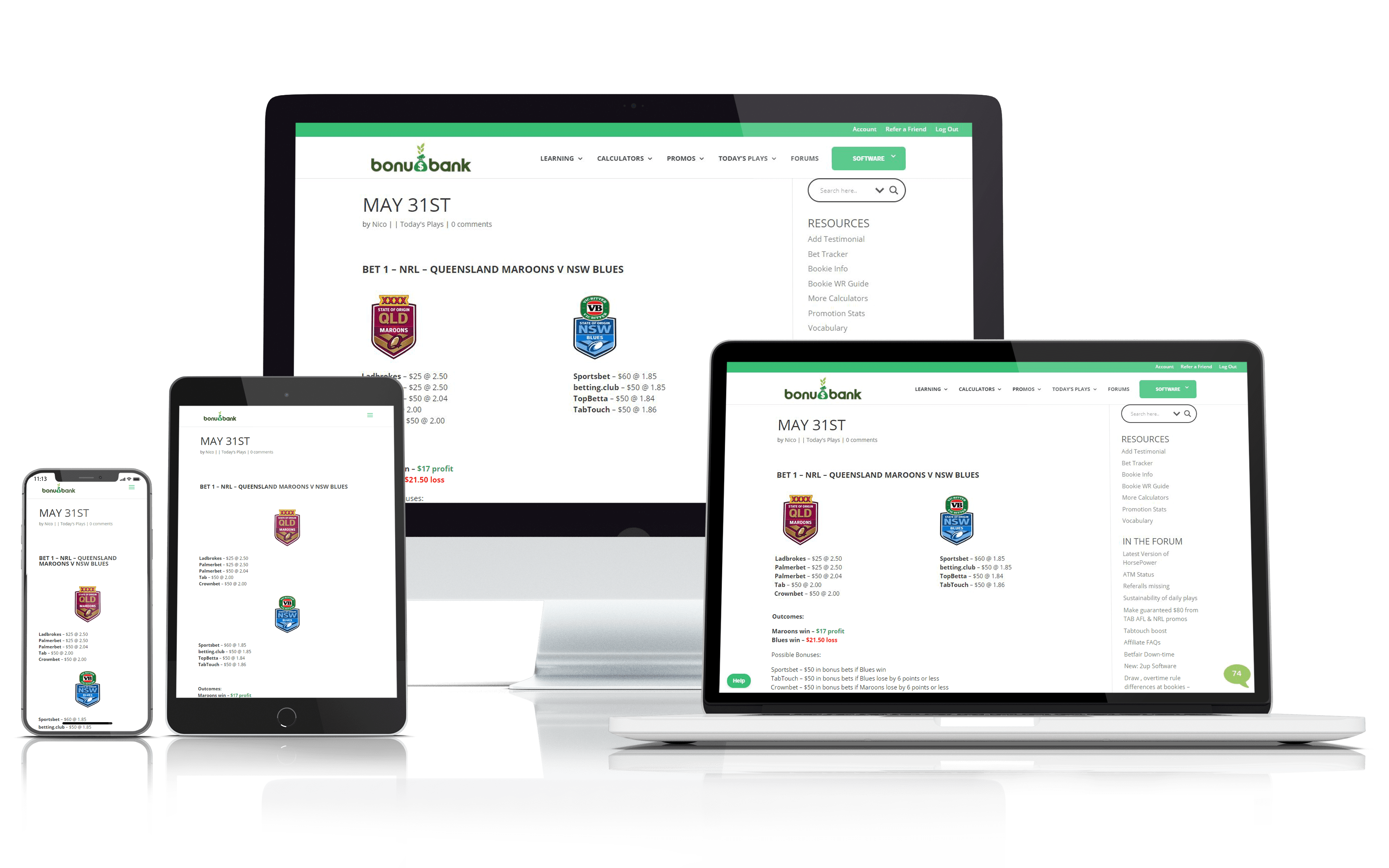 Multi-Matchers
Bookies love punters who bet on multis, so they have lots of promos that encourage people to bet on them.
Our strategies take advantage of these promos so that you can make an average of around 20% profit on every multi that you place.
Depending on which strategy you choose, the multi-matchers will identify the selections you should put in your multi, and tell you exactly which bets to place.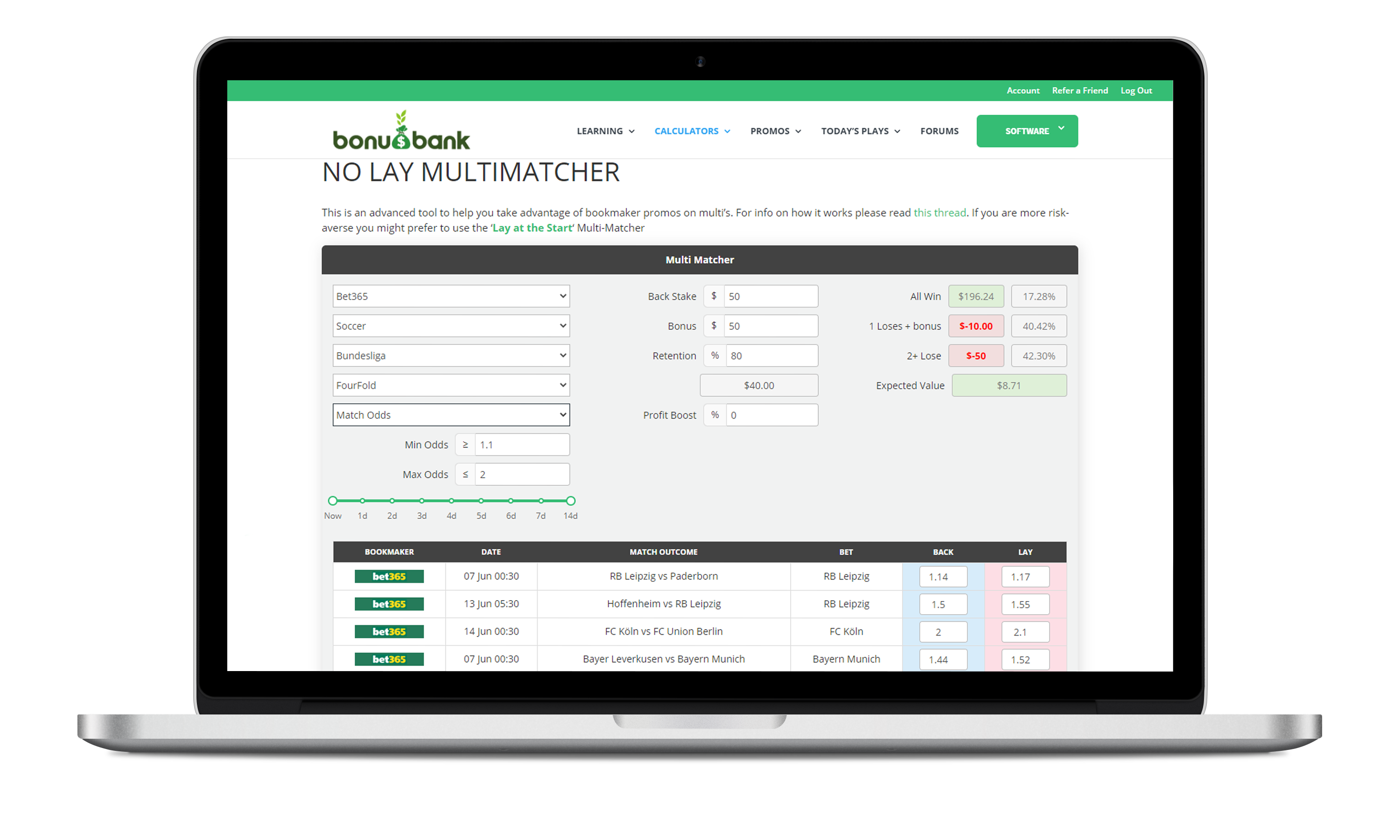 Other Calcs
Bonusbank has Australia's largest collection of matched betting calculators. Whatever the offer is, we have a calculator that will help you extract value from it.
Amongst our most popular are our Dutching calculator (for taking advantage of multiple bookie promotions at the same time), our Early Payout Calculator (for locking in profit after you receive an early payout), and our Extra Profit Calculator (for guaranteeing profit from winnings boost offers).
The Forum
When learning something new it's always good to have people to share the experience with. Our forum is a great place to chat with other new matched bettors and to get advice from more experienced ones.
Premium members can also join our Discord server where they will find Australia's most active matched betting chatroom.
Channels within the server can help members find the best welcome bonuses, improve their account sustainability, and find arbitrage opportunities, along with a variety of other topics. There are also some 'off-topic' channels where we discuss things like investing, and alternative side hustles.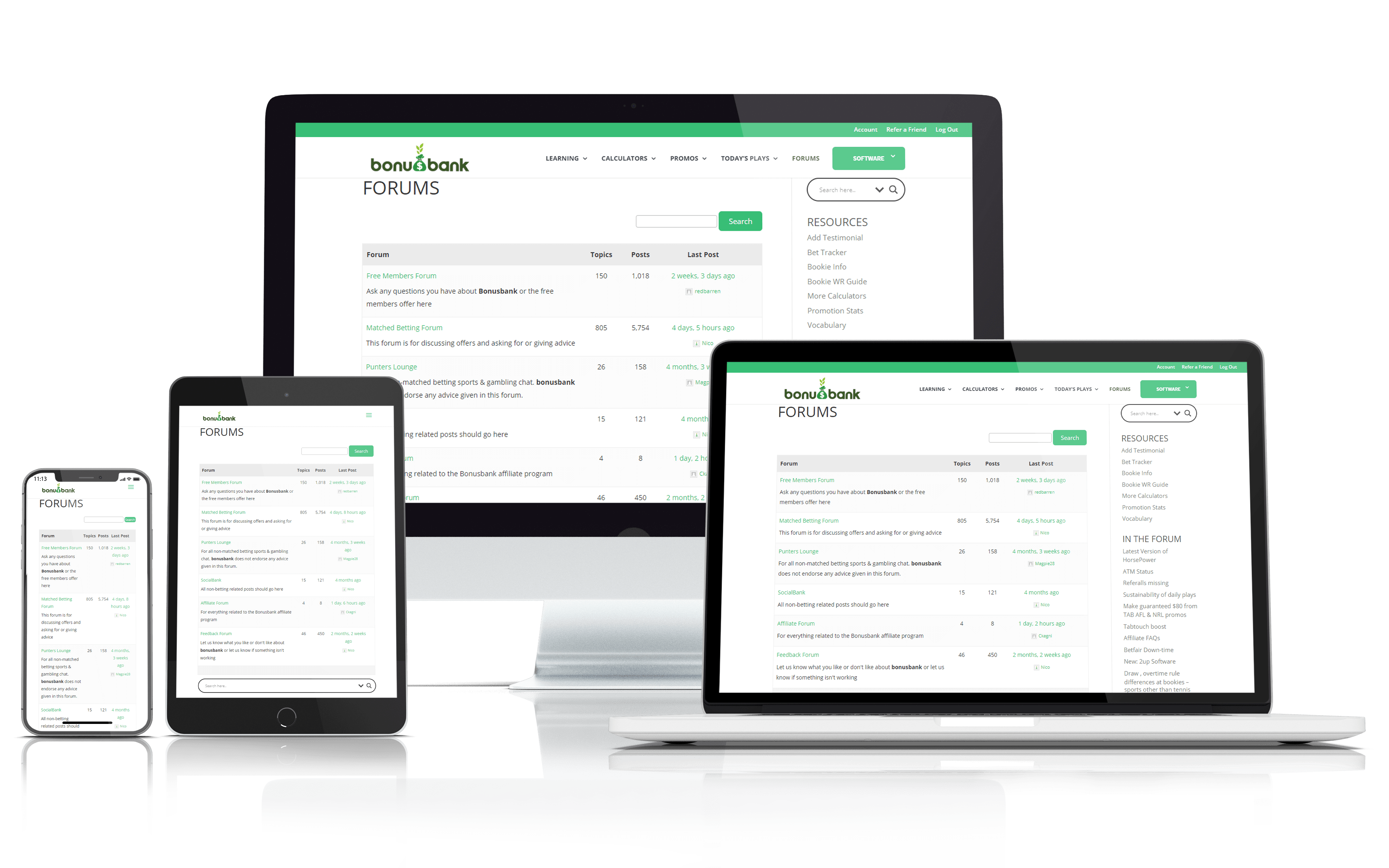 Dutching Software
An alternative to the ATM, the dutching software compares the odds between Australian bookmakers to find the best matches.
These can be use to work through any bookmaker turnover requirements, increase your 'mug punter' profile, and even to increase your profits when sports arbitrage opportunities arise.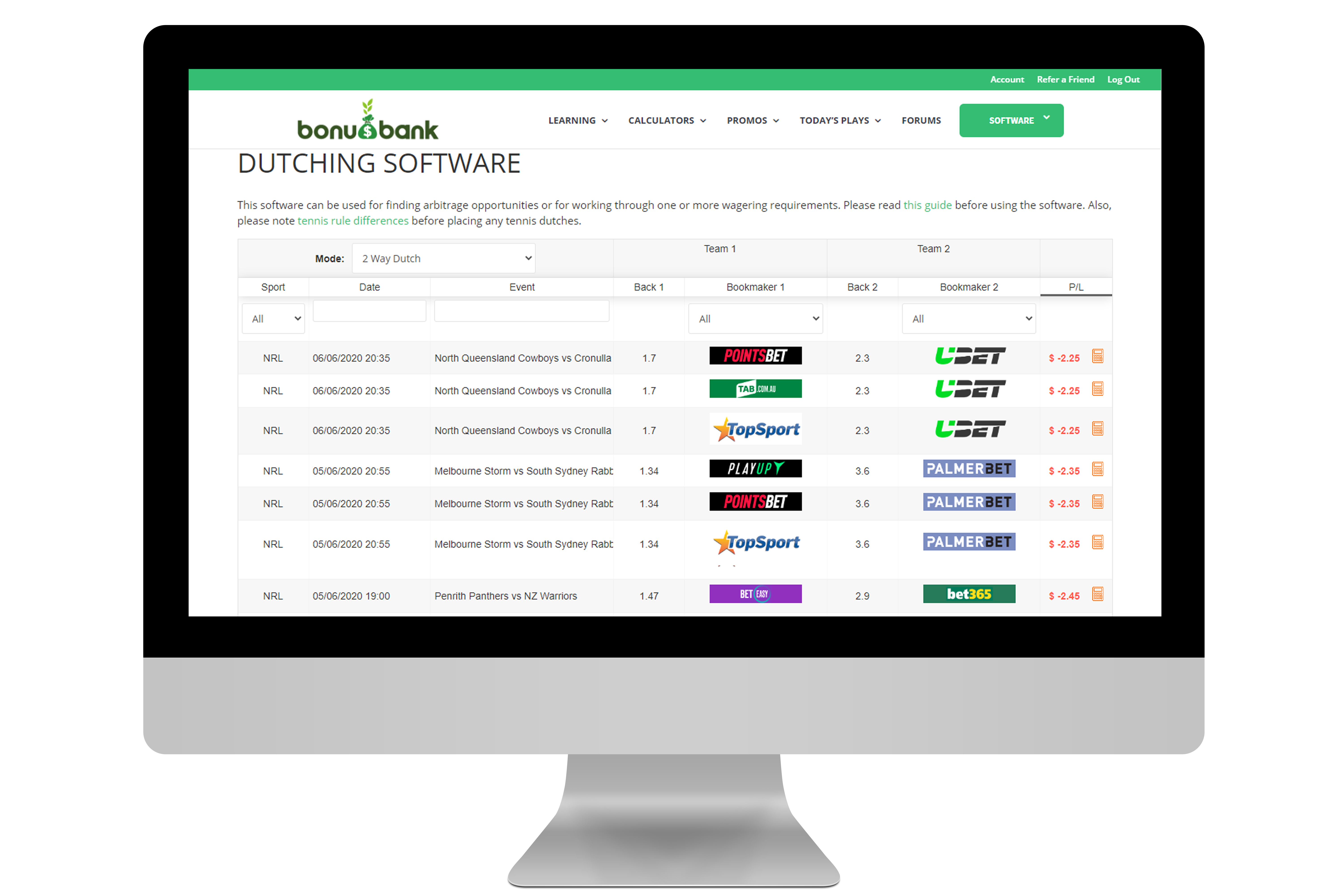 Bank Accounts
If you are looking for a matched betting service that provides amazing value for money, look no further…