MULTI MATCHERS
After you have grasped the basics of matched betting you will want to learn some of the other ways that we can get one-up on the bookies. Multi's are a great example of an advanced strategy that we can use to make regular, ongoing, profits.
Bookies love punters who bet on multi's, so they offer loads of promos on them. At Bonusbank we know exactly how to turn those promos into profit, and the multi-matchers are the tools that we use to do it.
We have two different multi-matchers that you can choose between depending on your risk-preference.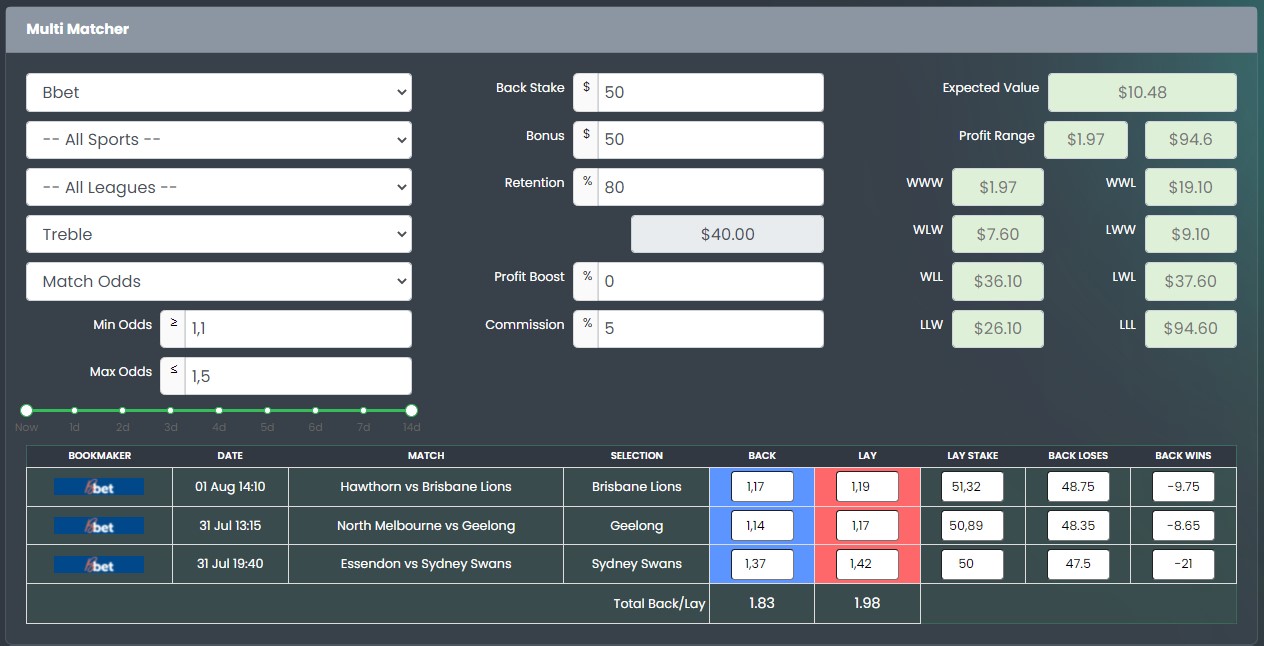 The Lay-at-the-Start matcher will suit members who are more risk-averse. The No-Lay matcher will be a better fit for members who want maximum profit and don't mind a bit of variance.
Both multi-matchers will identify the best bets to place in your multi, and calculate what the Expected Value of the multi is. The higher the EV, the more of an advantage you have over the bookie.
Pick Your Own Multi
The multi-matchers will automatically highlight the games which provide the highest expected value based on the criteria that you enter. However, sometimes you might want to change things around.
Maybe you have a favourite team that you want to include, or you want to remove a team because you have already placed a bet on that game.

When that is the case, you can easily switch teams around using the bottom section of the multi-matcher. As you do, the top section will automatically change and re-calculate all of the information that you need.
Matched Betting Pros
In addition to offering huge value, multi's also make it harder for bookies to see that you are matched betting. For this reason, they are hugely popular with our more advanced members.
If you would like to use the multi-matchers as yet another way to profit from the bookies, upgrade to a premium account today.
SIGN UP TODAY
Join Australia's biggest and best matched betting community and start making a regular second-income from bookmaker promotions.
SIGN UP