What has been your most profitable
matched betting
promotion over the last 12 months? Ask any experienced matched bettor and they will almost certainly answer 'early payouts'.
Early payout offers settle your bet as a winner as soon as a certain trigger event happens. It could be an AFL team leading by 24 points, an NRL team scoring 20 points, or a soccer team leading by 2 goals.
The beauty of these offers is that there is no guarantee that the team who trigger the payout will win the game. If they don't, and you have backed and laid pre-match, you will win at both the bookmaker and Betfair.
The chances of a team coming back from 24 down are slim though. That's why the Bonusbank early payout calculator is designed to help you guarantee a profit whatever the outcome. This is done by placing an additional in-play bet.
The calculator has been very popular with our members, who have collectively made tens of thousands of dollars profit using this method (one member made $7.5k in a single day!).
However, we had some requests to make it even better by allowing for multiple additional back bets to be placed, rather than just one. So, we duly delivered. Here is what it looks like now…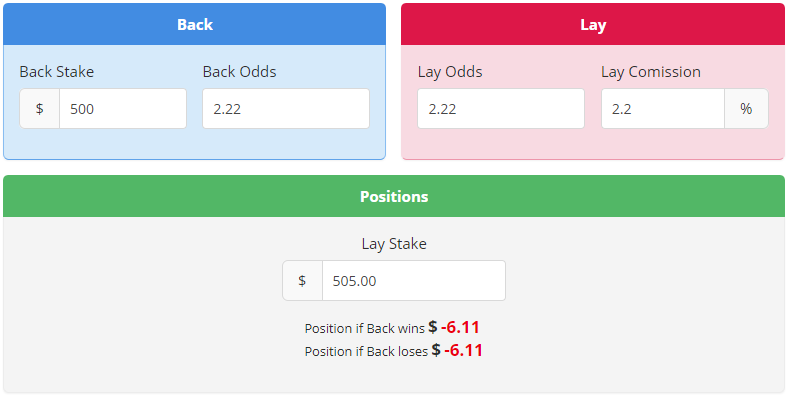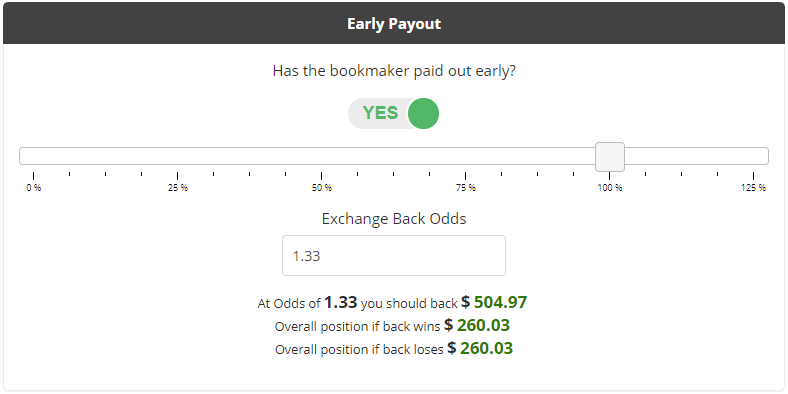 Get Involved
If you want to maximise your matched betting returns, early payout offers need to be part of your arsenal. Version 2.0 of the Bonusbank early payout calculator makes it easy for anyone to lock-in a profit.
To start using the new calc and making money from early payouts, sign up to Bonusbank today!