The new financial year has arrived at a time when most people don't enjoying talking – or even thinking – about their finances.
Around the globe, a cost of living crisis is in full effect. And Australia is no exception.
Rental prices in state capitals have increased by over 20% at a time when wage growth is only 2.4%. Property ownership is now nothing more than a pipe-dream for many.
Gas and electricity prices are also through the roof, and let's not get started on the $10 lettuce.
There are very few areas where Aussies aren't feeling the pinch, so there has never been a better time to find additional sources of income.
Start Making Money Online
There are plenty of side hustles available for anyone looking to make some extra money. In these times of crisis, though, a few extra bucks from filling out surveys isn't going to cut it.
What most people need is a side hustle that provides a high return; without requiring too much time; and that – ideally – can be done remotely.
Enter matched betting.
If you would like to make hundreds of extra dollars each week, in just a few hours, from your laptop or phone, you won't find a better option than matched betting. It's even tax-free!
To get an idea of just how much you can make, check out the results from this survey that we send to new members after 60 days.
More than 70% of new members make $1000+ in their first two months, with 10% of them making more than $5000!
Those are significant amounts that could make a real difference during difficult times.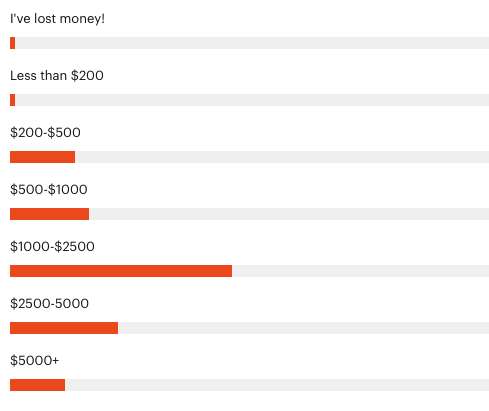 How To Get Started
If making an extra $1000+ in the next 60 days sounds appealing to you, the good news is that it isn't hard to do.
Any Australian resident who is over the age of 18 can make money from matched betting.
All you need to do is sign up for a free Bonusbank account and read through our Matched Betting Basics course. This will explain the basic concepts of matched betting, and walk you through the process of opening your bookie accounts and making your first profits.
The strategy that we use in the course is 100% risk-free. Every bet that we place is fully hedged to remove the risk. Our profits then come from the bonus bets that we receive from the bookie.
By using this approach at the various bookies in Australia you can make around $3000 with zero risk.
---
What Happens When I Run Out Of Bookies?
It's a common misconception that matched betting is just about opening new accounts and getting sign-up bonuses. In reality, that is just the beginning.
By following the strategies in our more advanced courses, and using premium tools like HorsePower, you can continue earning month after month.
Just look at the results that some of our longer-term members have achieved:
"Changed my life"
As a young university student, BonusBank has given me financial freedom and with numbers now creeping over $15,000 in just 6 short months.. I can hardly believe it myself.
Truly changed my life, I'd advise everyone to give this a go – it really is some of the easiest money you'll ever make.
Ads
"An extra $20,000 in the last 6 months"
Having recently come out of bankruptcy, I was looking at other ways of supplementing my income to assist in getting back on feet; and then I came across BonusBank.
BonusBank has not only helped me save an extra $20,000 in the last 6 months, I have also found a new social group on the chat who are a great help in learning your way around matched betting.
I am not a 'punter' – never have been and haven't become one – THIS is a just a great way to make extra money with little or NO risk.
Looking to make some extra cash? Look no further than Nico and the team at BonusBank. Better than being an Uber driver and its tax fee.
pwinne
"Friendly and reliable advice"
I have been matched betting for around nine months and have made over $15,500 profit.  I consider this a pretty good return given I don't cover the horse racing or multi promos (although this is about to change).
It would not have been possible to achieve this result without the tools & services (especially the ATM) here at Bonusbank.  The Bonusbank team offers friendly and reliable advice which is invaluable, especially when starting out matched betting.
Don't be concerned about the price, you will find that Bonusbank will pay for itself several times over AND save you a lot of time.
Keef
---
Soften The Blow
Despite the huge price rises that we have already seen, it seems like this cost of living crisis is just getting started. The outlook for the 22/23 financial year is not great.
It is more important than ever to have a financial cushion to soften the impact.
If you would like to use the best side hustle in Australia to start building that cushion, sign up to a free account today.
---