At the beginning of June we published a blog piece called "How You Could Make $400 A Month With Just 5 Minutes Work". The piece talked about our 'Today's Plays' section and how matched betting doesn't end once you have completed all of the sign up bonuses.
Every day bookies in Australia offer promotions to their customers. These promotions can be exploited for matched betting purposes. Here at bonusbank we identify all of these promos and put them in one convenient place for our members.
We also figure out the optimum strategy for these promos and post our suggested bets as 'Today's Plays'. Bonusbank members only have to spend a couple of minutes each day placing the suggested bets.
We first started posting these bets on April 21st of this year. At the time of the last blog piece it looked like we were going to average around $400 per month. Now that we have posted 3 full months of bets it seems like a good time to check in and see how that is going: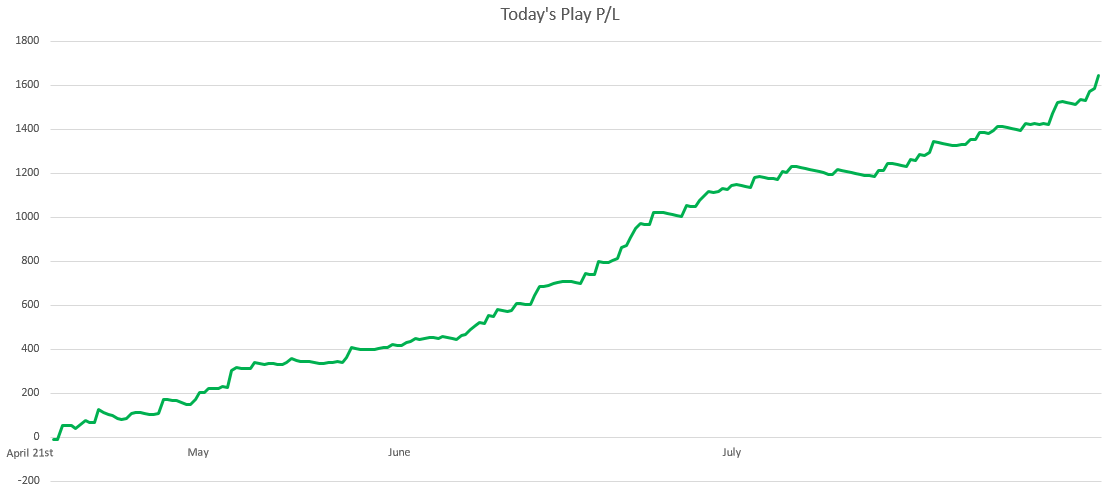 Results
Turns out we should have been a bit more optimistic. Instead of $400 per month, we have averaged nearly $550 per month between April 21st and July 20th. The total profit for the period was $1643.36.
We saw an increase in the number of bets placed in June and July. This was largely due to tennis promos for the French Open and Wimbledon. An excellent NRL offer from Ubet also helped to boost our profits. Crownbet chipped in too with their AFL Points Pile-Up.
All of these promos have helped our members add to the large matched betting profits they have made from sign-up bonuses. And it only takes them a few minutes per day. Our advanced members are also making hundreds of dollars every week from horse racing promos.
If you would like to join them you can sign up for a free account to get started. You will get access to 10 beginner tutorials, our matched betting calculator, and a lite version of the best matched betting software in Australia.
There's no commitment and no need to enter any payment details. So sign up today and see how you could start making money online with matched betting!