2ND/3RD LOCK-IN
The 2nd/3rd lock-in calculator is perfect for anyone who is risk averse but would like to profit from the '2nd/3rd refund' offers on horse racing.
The standard matched betting approach to racing promos is just to back and lay a horse in the win market. This is our preferred approach as it takes less time and will have higher long-term returns. However, there are no guarantees in the short-term.
If you would prefer smaller, but guaranteed, profits you can lock-in by placing an additional lay in the Betfair place market. However, the maths behind this can be tricky, especially in a fast-moving market.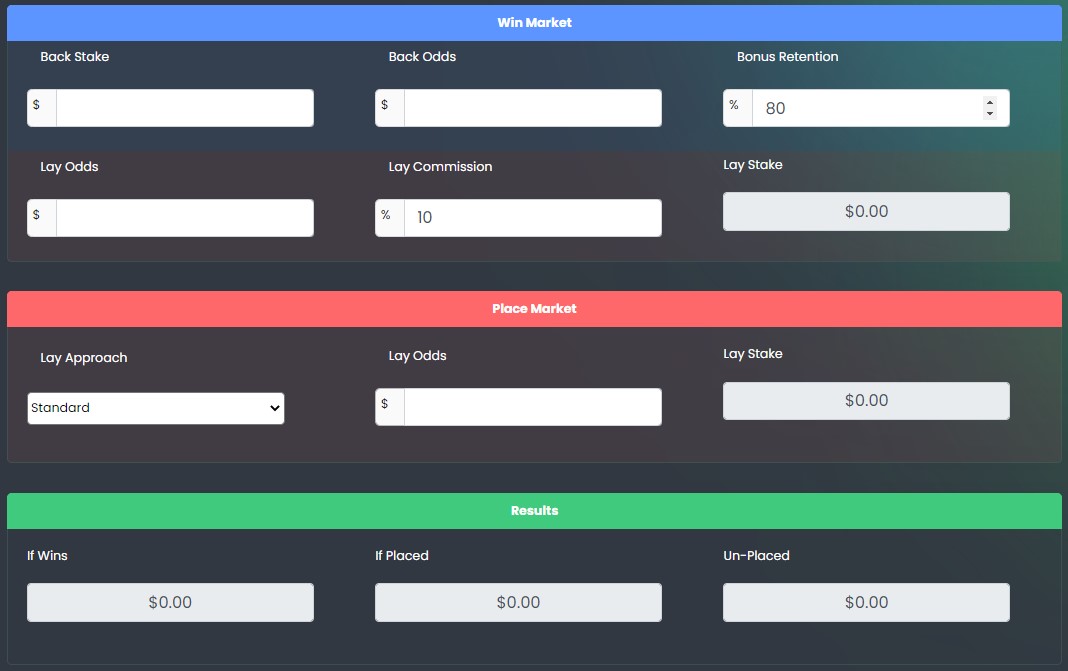 This is where the calculator comes in. It quickly works out the appropriate lay stakes for both the win and place markets, and calculates your potential outcome.
No matter what happens in the race, this outcome will be guaranteed.  If you find a selection with a high expected value (Horsepower can help with this) you can lock-in around $5-8 of profit from every race.
Different Approaches
One thing to notice is the Lay approach can be changed. There are four to choose from; Standard, Underlay, Overlay and No Lay.
Standard setting will evenly distribute the profit no matter the outcome. If the horse wins, places, or is unplaced, you will make the same amount.
Underlay approach increases the profit if the horse wins or is placed. You'll also break even if the horse is unplaced.
If you think the horse doesn't have much chance, perhaps overlaying may be your best strategy. This approach ensures a higher return if the horse is unplaced.
No lay (Place market), will provide higher returns for a win and a place. However, there will be a slight loss if the horse is unplaced.
Whichever approach you choose, you can be sure to see your profits go up and up thanks to this matched betting strategy!
SIGN UP TODAY
Join Australia's biggest and best matched betting community and start making a regular second-income from bookmaker promotions.
SIGN UP