DUTCHING SOFTWARE
Dutching is a matched betting technique that removes the need for a betting exchange. Instead, we use multiple bookmakers to cover all possible outcomes.
When it comes to sports arbitrage, dutching has a lot of advantages over using a betting exchange. For a start, betting exchanges charge commission on every winning bet. This can seriously reduce already thin profit margins. Also, if you want to sell a bet on a betting exchange there has to be someone willing to buy it. Most arbitrage opportunities exist in less popular markets where it might be difficult to get any takers on Betfair.
The only downside to dutching is that, with so many bookies to compare, it is a lot more time-consuming.
Or, at least it was…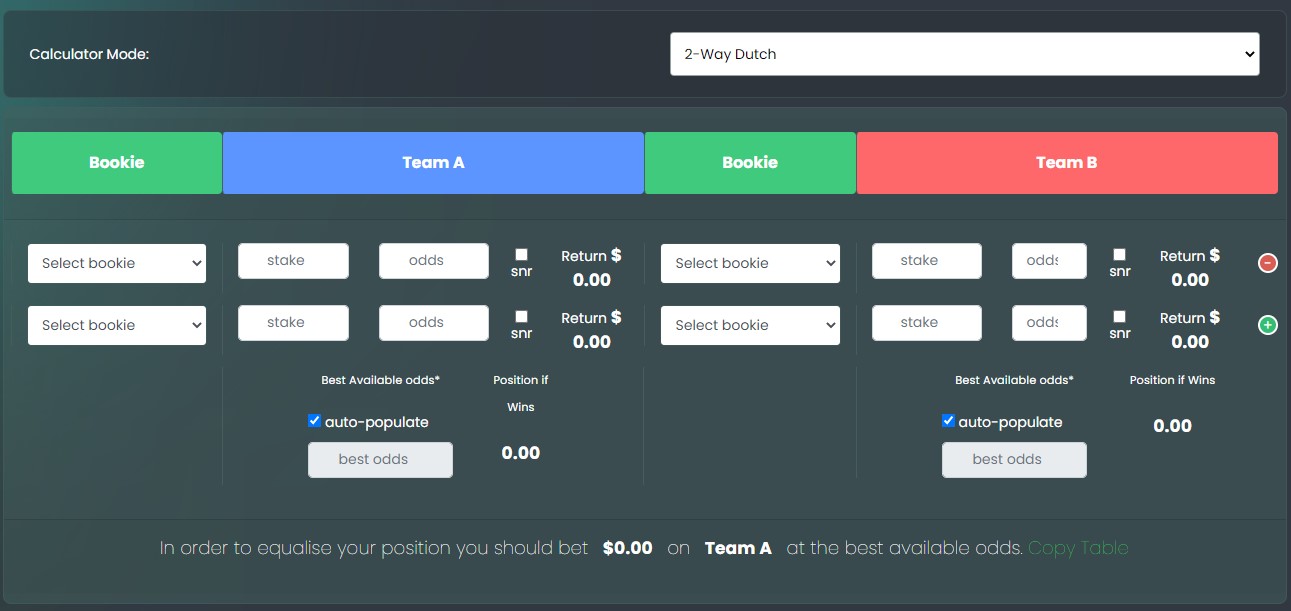 Our unique dutching software is the only one of its kind in Australia.  It compares odds from 18 different bookies to find the best sports arbitrage opportunities.
The software can identify arbs in 2-way markets – such as Basketball, Tennis, AFL, & NRL – and also in 3-way markets – such as soccer.
It can also be used for non-arbitrage dutching. This is useful when you have to complete a wagering requirement after a winning bonus bet.
Arbitrage betting is just one of the ways that Bonusbank members can profit from Australian bookmakers. The bonus bet promotions that they offer to new and existing customers allow us to make consistent no-risk profits by using matched betting strategies.
By applying the various approaches that you can learn at Bonusbank, it is possible to make over $1000 per month with just a few hours effort.
SIGN UP TODAY
Join Australia's biggest and best matched betting community and start making a regular second-income from bookmaker promotions.
SIGN UP