2018 has been a great year for matched betting in Australia, especially for bonusbank members. 
Since launching in April 2017 we've successfully managed to help thousands of Aussies to make a risk free and tax free income by taking advantage of promotions that bookmakers offer. We've even managed to change the lives of some of our members!
Here's a snapshot of what has happened in the last 12 months:
Today's Plays
Our plays have returned an incredible $18,796.02 so far in 2018. 
As you can see from the chart, every month has returned a profit. This is because we use the bookmaker offers to turn the odds in our favour. When the odds are in our favour, we are guaranteed to win over the medium- to long-term.
You will also notice that the profits fluctuate throughout the year. The results are correlated with the sporting calendar. When popular sports, such as NRL & AFL, are in-season the bookies have more promotions and our profits increase. This year we also had the World Cup to boost profits in June and July.
November and the first half of December are traditionally quieter periods for matched betting, with only a few NBA, NFL and soccer offers available. Things are starting to pick up again now though thanks to the Big Bash League. With the Aussie Open starting soon, we expect profits to jump again in January.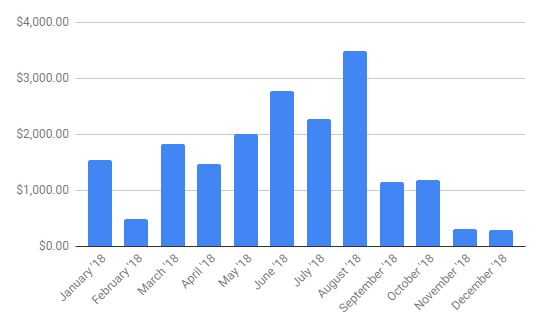 One thing that isn't covered in this chart is horse racing. Our members select their own racing bets, so it isn't possible for us to track the results. We do know one thing for sure though – racing is the most consistently profitable sport for matched betting.
Every weekend bookies offer refund or bonus bets if your horse finishes 2nd or 3rd. Approached correctly, these offers can add hundreds of dollars every week to your matched betting profits.
As racing is so popular for betting, these offers aren't going anywhere. They will continue to be one of our biggest earners in 2019.
New Features
It's been a busy year for the bonusbank team, we've been adding a lot of features to improve the membership experience. 
Dutching Software – The first and only dutching software in Australia was launched this year, a great tool to help with turnover requirements and finding arbitrage opportunities. 
HorsePower – You asked, we delivered. It's still in the beta phase, however should be fully completed by early Jan 2019. This extension helps extract bonus bets from racing offers and also helps turnover bonus bets too!
Calculators – We've added a bunch of new calculators, including the SNR Multi Calculator, Multi-matcher, EV Calculator and multi-promo calculator. We've also added some extra calculators, including our latest one which helps you take advantage of Betfair's 20% boosts. 
ATM Updates – BetEasy, BestBet, Neds, and Pointsbet were all added this year. We also extended our range of sports to include NFL, helping to fill the gap during the AFL/NRL off-season.

The new regulations surrounding signup bonuses came and went without any major disturbance to the matched betting landscape. Punters in NSW will no longer see signup bonuses advertised directly by the bookmakers, but they can still get them by using sites like punters.com.au and racenet.com.au
We've created a free Facebook group. Feel free to join and assist any newbies. 
We upgraded our chatroom software. The chatroom now has a better design and more features. 
Our affiliate payment has increased. Refer a friend to bonusbank and you will receive over $10.68 for every month that they are a member. Share your unique link, which can be found in our affiiates section. 
So what's next for 2019?
Without giving away too much, we have some great features and additions planned for next year. 
Regular updates to HorsePower will continue throughout January, and we also have another exciting feature that we will be launching in the next couple of weeks. This one will help our members save one of the most precious things – time!
The ATM will continue to grow in size over the next year, with more bookies and more markets to be added. We will also be adding new calculators and tools to make sure that our members can profit from every available bookmaker promotion. 
Last, but certainly not least, we would like to thank each and every one of you for your continued support. 
On behalf of the bonusbank team, we wish you all a healthy and happy new year!