For many people, January can be a financially difficult month. After the excesses of December, credit card balances can reach record highs. Sacrifices have to be made to get things back on track. February can't come soon enough.
That hasn't been the case for bonusbank members though. They've been making record profits all month, and probably wouldn't mind if January went on forever.
They've made those profits by following our Today's Plays section. This is where we post daily instructions on the best way to make a profit from bookmaker promotions. Don't confuse this with regular gambling. By only betting on events that have a 'money-back' or 'bonus bet' offer we can guarantee ourselves a profit in the medium- to long-term.
Don't believe us? Take a look at the graph below and see how consistent our returns have been: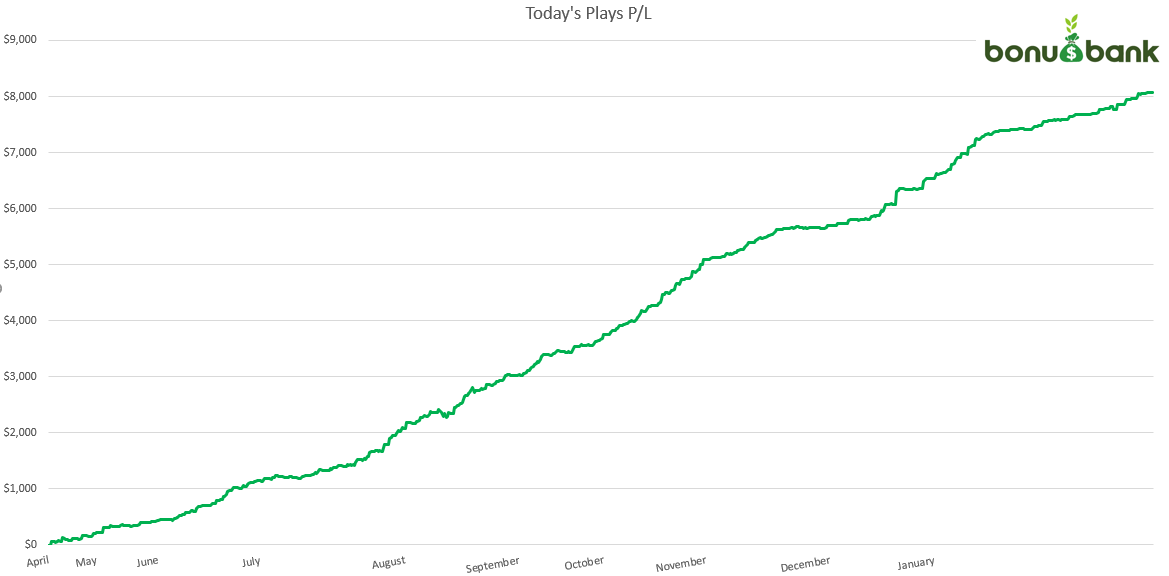 Since April last year we have made a profit in every single month. January 2018 was our biggest ever!
With both the Big Bash League and the Australian Open taking place last month, we were spoiled with a huge number of bookie promos. As a result, we placed more bets than ever (156 to be precise).
The bookie promos turn the odds in our favour, so it makes sense that the more bets we place, the higher our profits should be. This was certainly true in January as we made a record-breaking $1544.88 profit.
Start Earning Today
It doesn't take a lot of skill to start replicating these results. At bonusbank, we do the hard part for you. All you have to do is spend 5-10 minutes each day placing our suggested bets.
Members who are willing to commit a little bit more time, can also earn an additional $1000+ each month by taking advantage of the various horse racing promos that are around.
If you are still unsure, why not sign up for a free account? Our beginner tutorials will teach you how to make your first risk-free profits from bookmaker sign-up bonuses.
If 2018 continues like it has started, it's going to be an amazing year to be a bonusbank member. Join now so you don't miss out!
You can see the results of every bet we have ever placed here.