It is exactly two years since we published our first matched betting plays to a small group of bonusbank beta testers.
These plays are suggested bets which show our members the best way to approach any bookmakers promos. Usually by using the matched betting strategy known as Dutching.
This approach plays multiple different bookmaker promotions against each. By doing so we minimise risk and increase the possibility that we will earn bonus bets or cash back.
Needless to say, it works pretty well…

In just two years, the plays have returned a huge profit of over $28,000!
This is actually a pretty conservative estimate. When calculating the profit we assume that users will get a 70% return from each bonus bet. In reality, by using our ATM software it is pretty easy to get 75%+ from most bookies, and from some 80%+ is regularly achievable.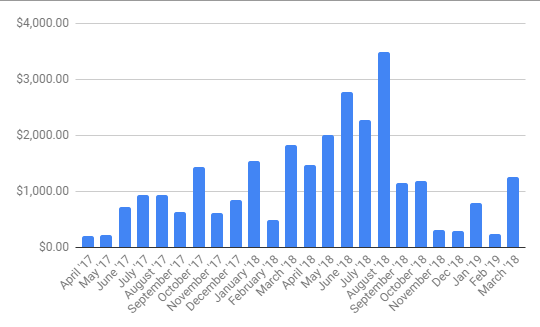 Although we have consistently made a profit every month, you can see that some months tend to be better than others. This is because sport is seasonal.
When popular Aussie sports like AFL and NRL are in season profits jump significantly. In the off-season, when we focus more on American or European sports, profits are a little lower.
With five more months of AFL and NRL to go this season, it is a great time to sign up and start following the plays. You can also use our HorsePower software to profit from racing promos, and ATM Alerts to find arbitrage opportunities
With the right approach, bookie promos can provide you with a great supplemental income. Sign up today to get started.