Matched betting has been on a semi-break recently (like the rest of the world) as a result of the coronavirus. The cancellation of most major sports has left us with less opportunities to make money from the bookies.
Fortunately for us, horse racing in Australia has managed to continue on throughout. This has allowed our more experienced members to keep making a profit.
As anyone who has been matched betting for a while will tell you, horse racing is where the long-term profits are. However, it is not an ideal learning ground for beginners. We will be happy to the see the return of Bundesliga at the weekend.
During this quieter period we have been working behind the scenes to improve our matched betting service. We have made upgrades to our oddsmatcher software, and our horse racing chrome extension.
We have also just released a significantly improved version of our matched betting app.
Here is a look at each of them…

The ATM oddsmatcher software has been at the core of bonusbank since we launched three years ago. It helps matched betting newbies identify the best options for their first bets, and experienced members use it to maximise returns on their bonus bets, and to find sports arbitrage opportunities.
Over the three year period we have continually made small incremental changes and improvements. However, we recently went back to the drawing board and built a new and improved version from scratch.
It might look similar on the surface but there are some significant differences:
The table will auto-refresh in your browser so that you are always getting the freshest odds
We have added a huge number of new leagues since we first launched, so we added a 'League' column to make it easier to search
The filters now allow you to select or deselect multiple bookies or leagues so you can find the exact results you need
You can also save your settings for next time. No more gubbed bookies in the table
The timezone can be adjusted so that the start times are displayed correctly for you
You can enter your stake amount in the 'Stake' box and the table will display your actual returns rather than just a percentage
All of these features, combined with the huge amount of bookies, sports, and leagues that we cover, make the ATM the best matched betting software in Australia by far.
Another tool that has seen continual improvements and upgrades is our HorsePower chrome extension.
Horse racing promos are the most profitable area of matched betting in Australia, and HorsePower makes it easy for anyone to start making money.
The most recent version added an expected value (EV) column. This lets you know how much of an edge you have over the bookie, based on the currently available odds.
By continually betting on the horses with the highest expected value, our members can ensure that they maximise their matched betting profits.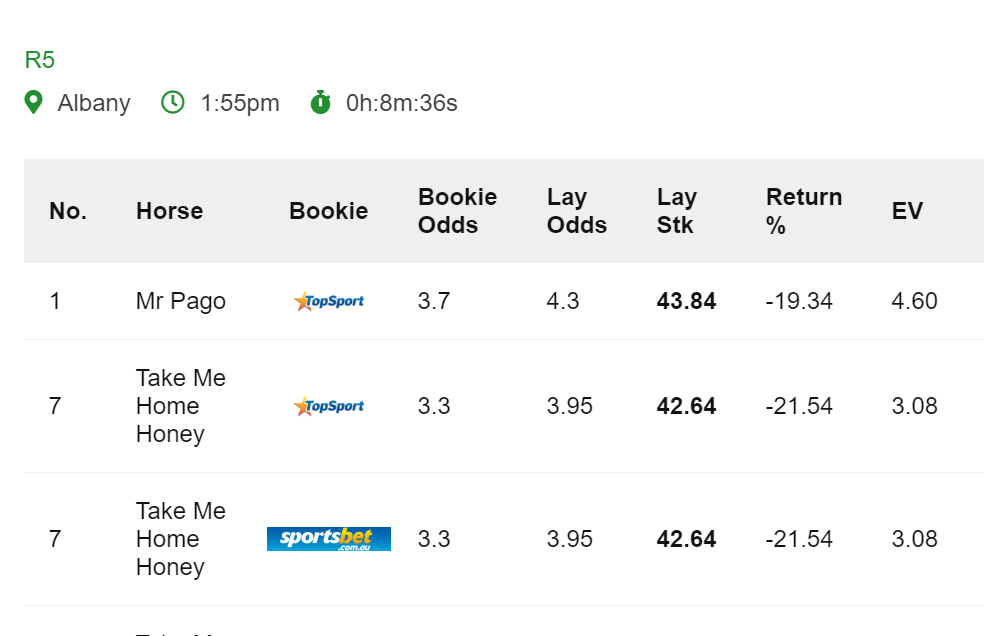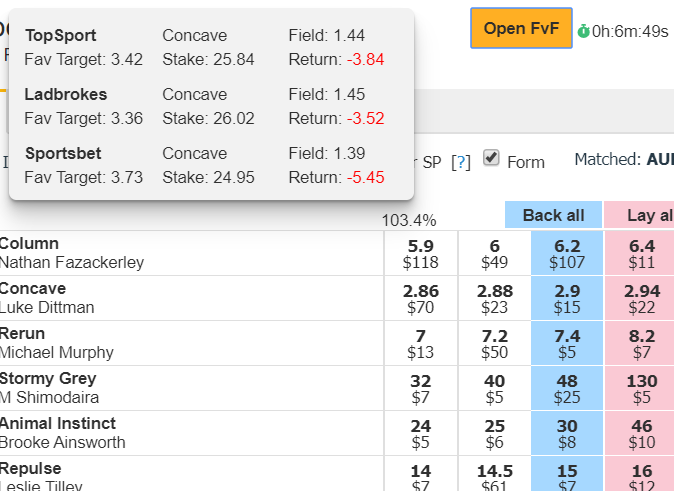 With limited promos during the lockdown, we have also been looking for innovative ways to make money from bookies. One such way, which was suggested by one of our members in the forum, is 'Fav v Field' arbitrage.
Based on this suggestion we decided to add a feature to HorsePower to simplify the process. This feature overlays the bookie odds onto Betfair and displays your potential return at any given time. Any time it turns positive you can just place your bets and lock-in a profit.
One of the great things about 'Fav v Field' is that it doesn't rely on promos. This means that it can be used to squeeze even more money out of accounts that have been banned from promotions.
You might also notice that we have added a handy countdown timer to the Betfair market so that you never miss the jump again.
BONUSBANK – MATCHED BETTING APP
This week we launched a new and improved matched betting app on iOS and Android.
The new app replaces our previous Bonusbank Basics app, and has a lot more features. All of the free, beginner, content that was on Basics is still available, but now Premium members are able to login to access much more.
Included in the Premium section are six additional matched betting calculators that can help you take advantage of a range of bookmaker promos. Our Intermediate and Advanced tutorials are also available to help you learn new strategies.
In addition, the Premium app contains versions of our promo pages and daily plays. These are great for anyone who does their matched betting on the move.
To download the app just go to the App Store or Play Store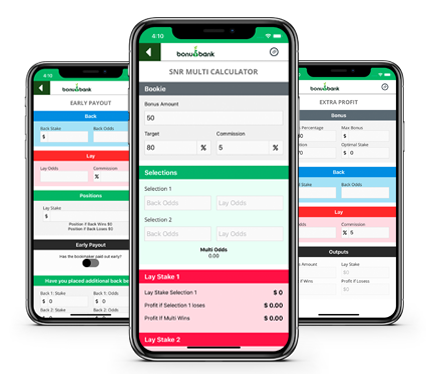 The Return Of Sport
The return of Bundesliga is a welcome sight after so long without major sports. However, from a matched betting perspective, it is NRL and AFL that we are most excited about.
Today we learned that – assuming there are no virus-related complications – AFL will return in four weeks. NRL should be back in two. When that happens we can expect to see a huge increase in the number of matched betting opportunities.
Thanks to the upgrades that we have made to the site (plus the awesome existing features) our members will be more ready than ever to take advantage of them.
Sign up today to join them.