Australia's #1 Matched Betting Website
Make Money Online
Matched betting is the most profitable side-hustle in Australia. By taking advantage of bookmaker promotions you can make hundreds of dollars in tax-free income each week.
With the help of our free tutorials and tools you can make your first profits today.
Sign Up Now!
Testimonials
As a young university student, BonusBank has given me financial freedom and with numbers now creeping over $15,000 in just 6 short months.. I can hardly believe it myself. Truly changed my life, I'd advise everyone to give this a go – it really is some of the easiest money you'll ever make.
Ads
Since joining Bonusbank I have learned so much. Lots of informative videos on the site, great tools & calculators which do the hard work for you, and also a very helpful community with many members sharing their knowledge of how to play different types of bonuses. I really can't think of a single negative and would highly recommend anyone thinking of signing up to do so!
Scottroach
I have been matched betting for around nine months and have made over $15,500 profit. It would not have been possible to achieve this result without the tools & services (especially the ATM) here at Bonusbank. The Bonusbank team offers friendly and reliable advice which is invaluable, especially when starting out matched betting. Don't be concerned about the price, you will find that Bonusbank will pay for itself several times over AND save you a lot of time.
Keef
Just wanted to take a minute to say thank you to all of the staff at bonusbank and all of the wonderful people in the chat! Yesterday was my kids birthday and it was the first time that I have been able to comfortably afford presents and party things for her! I have paid off half of my debt and am well on my way to a new ride (still rocking a VT commy, the same car I since i learned to drive). You guys are the best!
purplebubbles
Bonusbank is an amazing resource and a great community for matched betting. I went from cautious on-looker to confident believer overnight once you see the process in action. During 18 months of solid matched betting with Bonusbank and their tools, knowledge and community, I was able to knock 8 years off my mortgage. That combined with payments already being ahead, I am now under 30 with zero debt to my name and Bonusbank showed me the way.
Oco8531859
Loving it. Nico and the team are very helpful. Have made nearly $4000 in just under 3 months, only spending 30-45min a day on BB.
duzzatron
I would highly recommend Bonusbank and matched betting. You do not have to know anything about sports or racing at all, as you can follow easily once you do it a few times. I am so glad I found Bonusbank as your site is helping me pay for a fantastic Christmas holiday this year. NZ for Christmas this year and who knows maybe Europe next Christmas.
holiday77
The subscription to Bonusbank has been the wisest investment I've made this year. I have never been a punter. I had never bet before. But with the help of Bonusbank, I've made tens of thousands this year. The team at bonusbank is active, helpful and always friendly. They work hard to continually find value for their members. While there are other matched betting outfits in Australia, I can confidently say that Bonusbank is worth joining and that their automatcher is hands down the best I've seen around. Don't hesitate; join Bonusbank today!
HoracioDanton
There is no way i could've been as successful with match betting without the help of bonus bank. The tutorials, tools (atm, calculators and horsepower) and the discord server have been extremely useful.
Spekdrumis
I joined bonusbank 4 months ago and don't regret a single $ that I spent on this membership. The tools are just crazy useful and whenever you have a question whether it's Nico personally helping you or one of the members, someone is always there. I usually never rate anything let alone write testimonials, however, bonusbank has given me so much that I want to return the favor. If you're still thinking about joining, do it, it's one of the things I guarantee you won't ever regret for a second.
Coozie
Just want to give a shout out to the team here at bonusbank. Thanks to you, i'm completely debt free and on my way to being financially free.
zerocool
8 weeks in and approximately 5K up. What's not to love?
Essexboy
Absolutely wonderful! I am so thankful that you guy so have designed a program that shows people how to make several thousand dollars very easily. A lot of information, calculators, and software. Lovely work.
userkantb
Bonusbank has helped me streamline my matched betting experience, giving me the best tools, software and information right at my fingertips to target any situation.
Revilo_J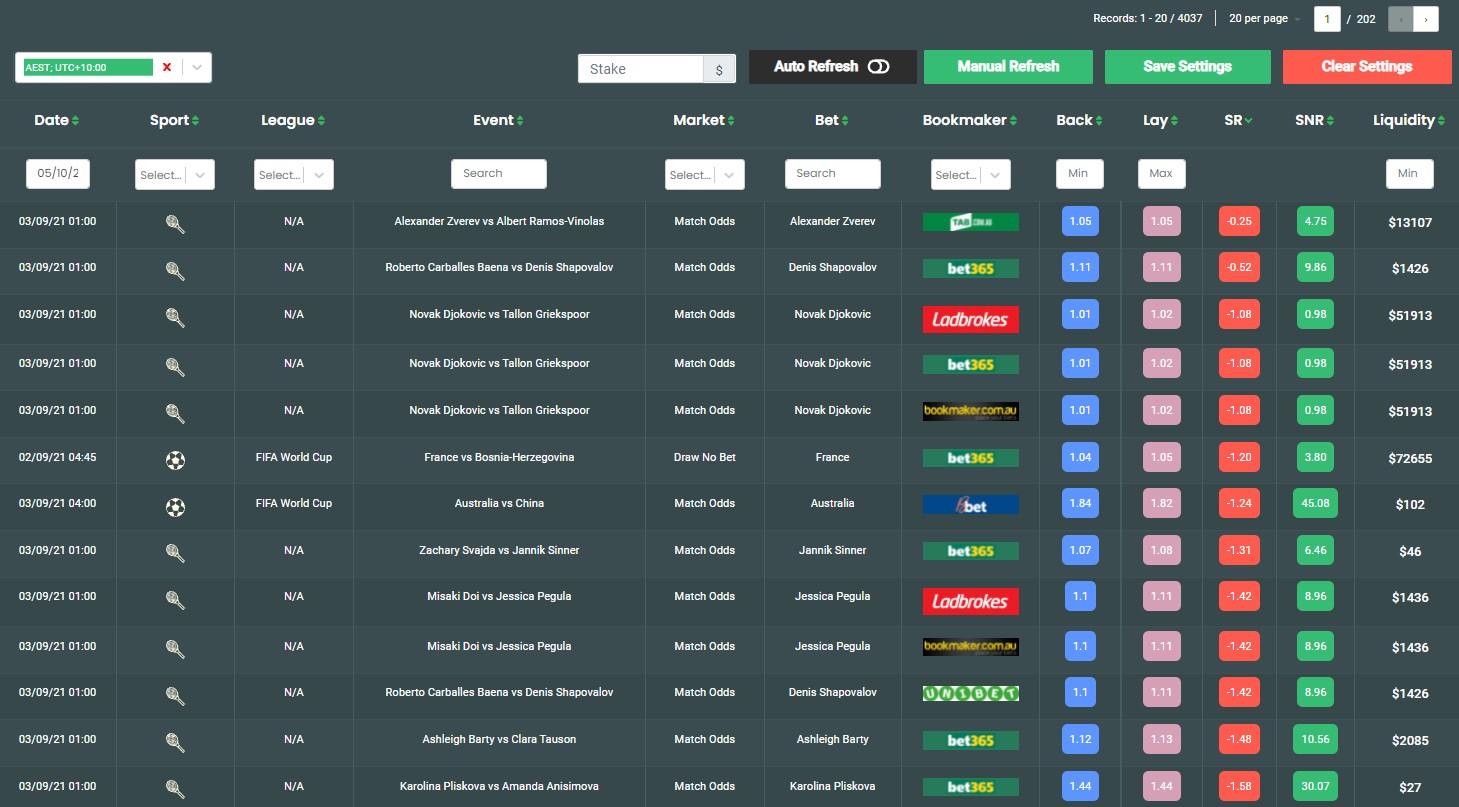 Software
ATM
The Bonusbank ATM is Australia's best matched betting software. It constantly scans bookmaker odds and compares them with Betfair.
By quickly identifying the best available odds, it will maximise your profits while also saving you time.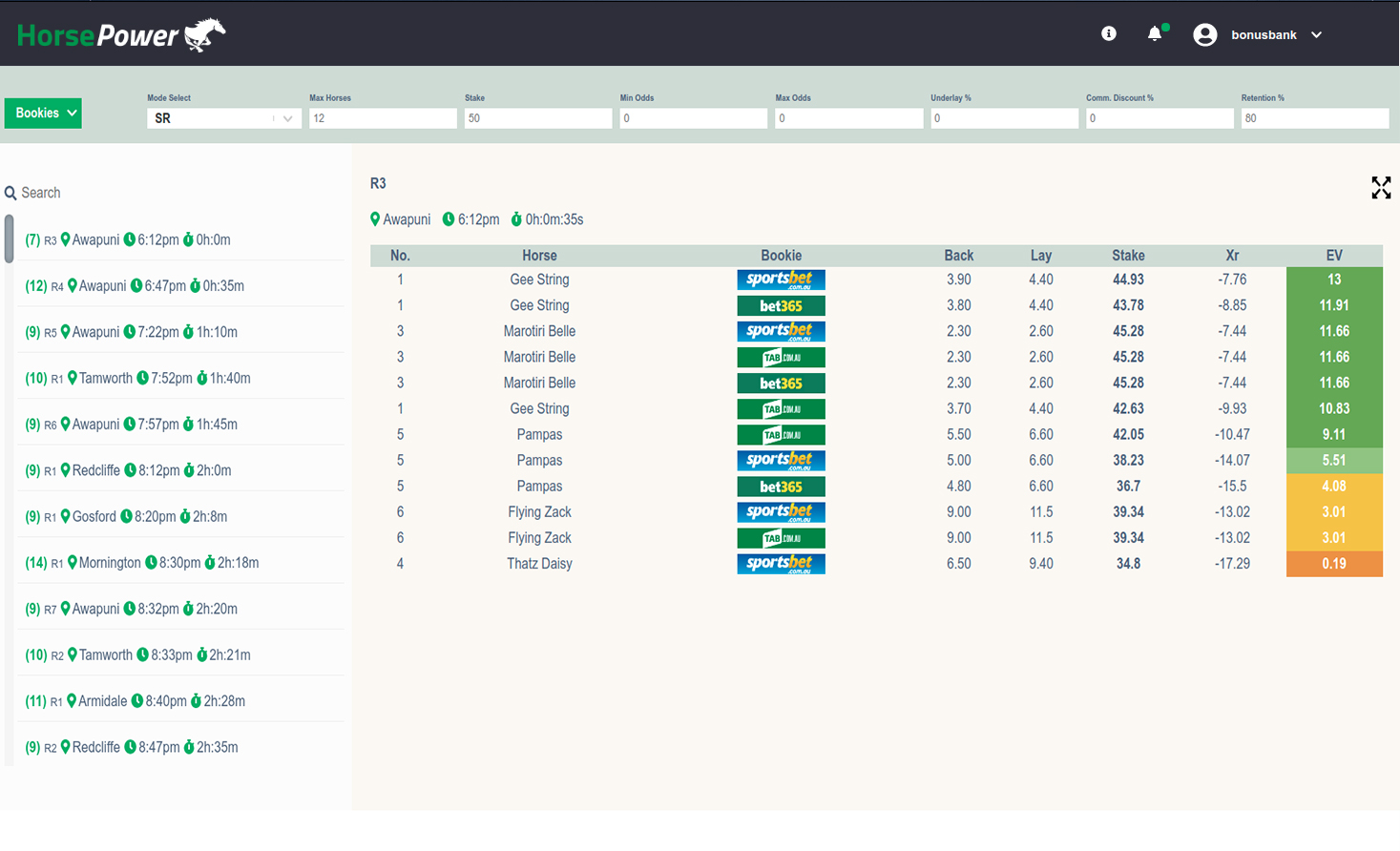 Software
HORSEPOWER
Bookies run promos on horse racing every week of the year. By using our HorsePower chrome extension you can turn those promos into cash.
With the right approach, and the help of HP, you can make over $1000 each month from racing.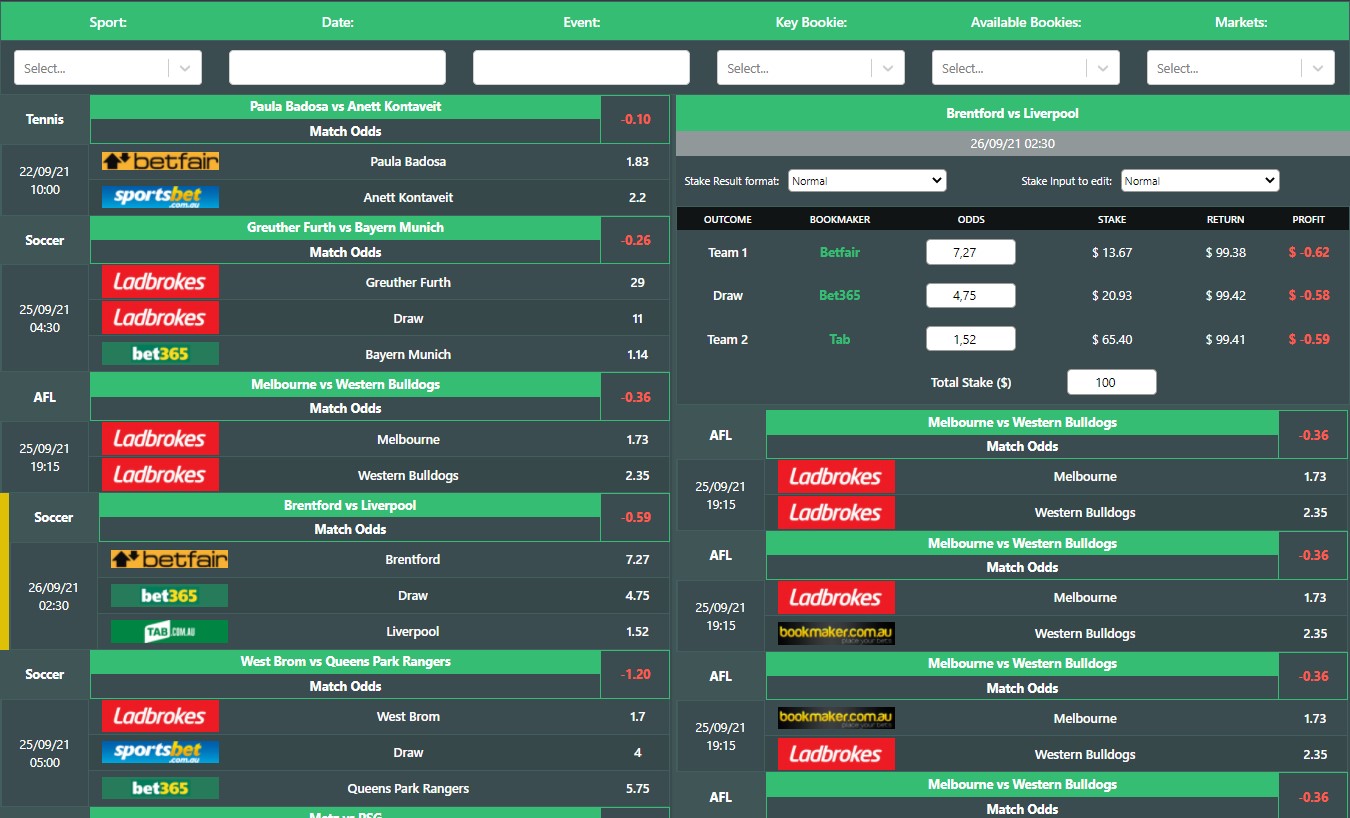 Software
DUTCHING
An alternative to the ATM, the dutching software compares the odds between different Australian bookmakers.
This is an extremely useful tool when completing turnover requirements, taking advantage of promotions, or looking for arbitrage opportunities.
FEATURES
Calculators
Bonusbank has Australia's most extensive collection of matched betting calculators. For every bookie promo we have a calculator that helps our members make money.
Here is a sample of what you can do with our calcs:
  Turn bonus bets into cash
  Lock in profits from winnings boosts
  Take advantage of lucrative early payout offers
  Make money from Same Game Multis
 Guarantee risk-free profits of horse racing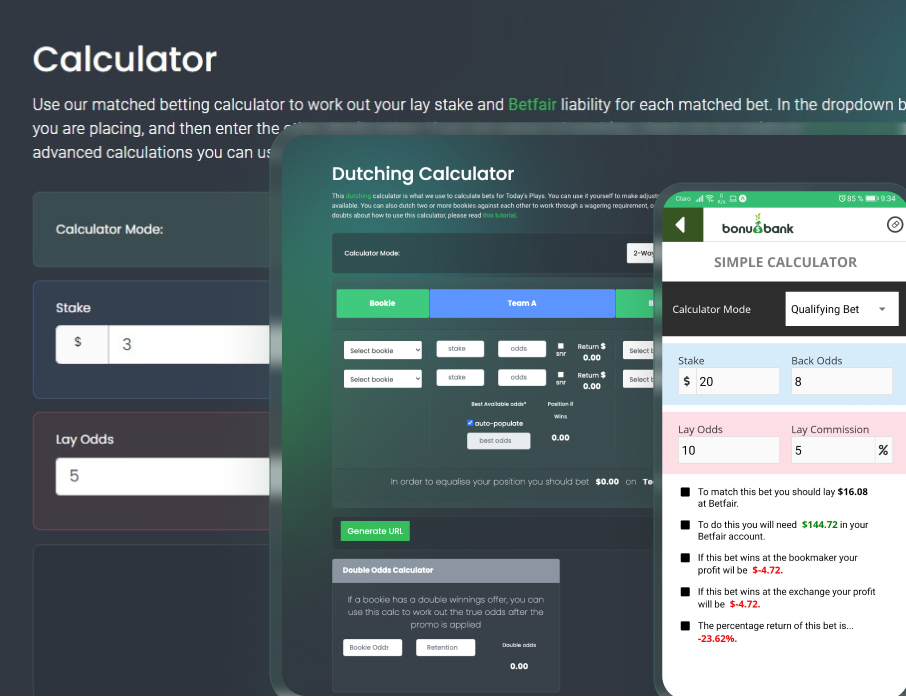 FEATURES
Discord
The Bonusbank Discord server is the biggest and best matched betting community in Australia.
It has channels where members share info and advice on topics like 'newbie questions', 'deposit bonuses', 'sustainability', and 'arbitrage'
There are also channels for 'off-topic' discussions on things like 'investing', 'side-hustles', and 'crypto'
Most importantly, there is a great sense of community and a healthy dose of banter as we beat the bookies together.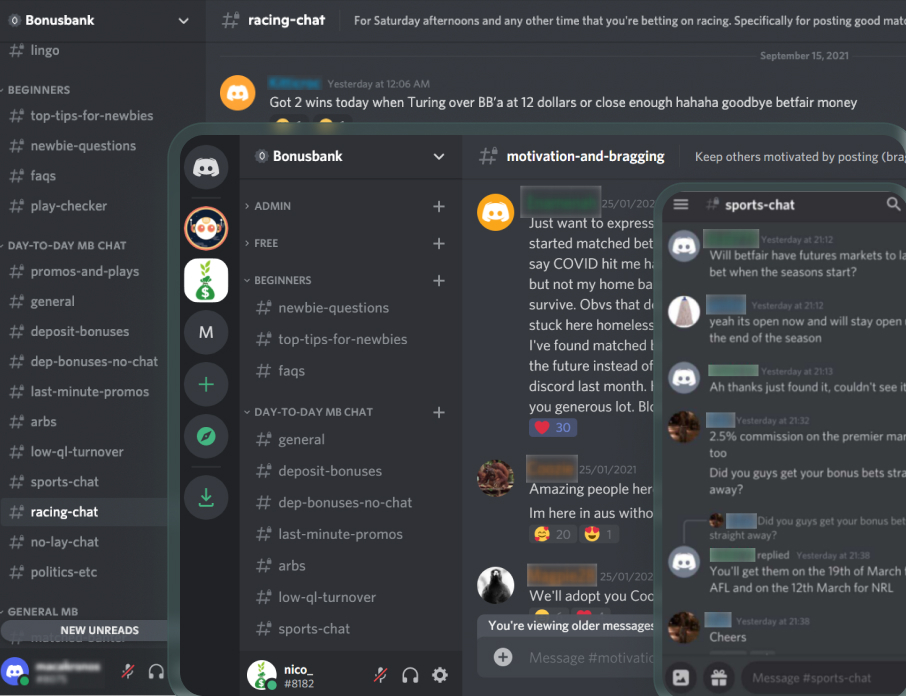 FEATURES
APP
Our matched betting app makes it easy to learn about matched betting and make money from the bookies while on the move.
The app is free to use and contains everything that you need to get started.
Premium members can then login to access even more great matched betting content and tools.
Read More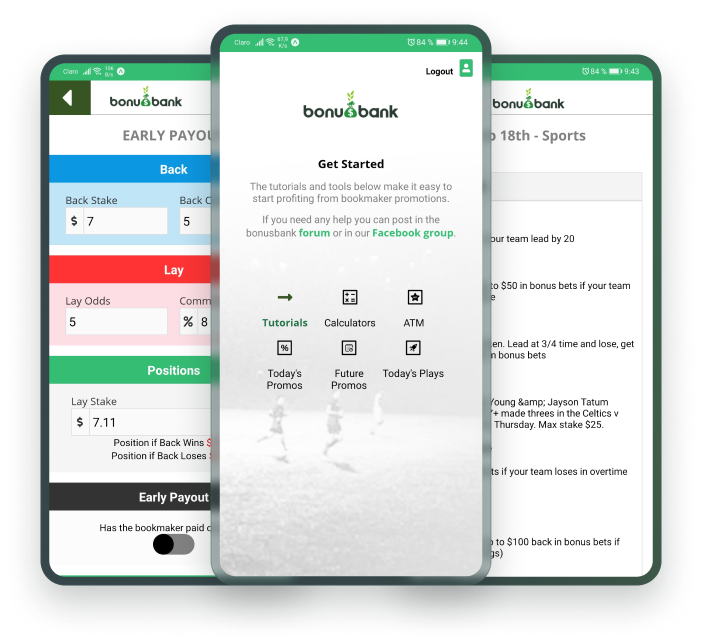 More Features
We have more matched betting tools and features than you will find anywhere else in Australia
Matched Betting Courses
Whether you are a complete beginner or an advanced MBer, our educational content will help you increase your profits.
Suggested Plays
Every day we search for the best available promos and then post suggested bets that you can place to make money from them.

ATM Alerts
Improve your bonus bet retention and get notified of arbitrage opportunities by using our ATM Alerts chrome extension
Promos Database
Quickly find the best promos available – and learn the strategies needed to profit from them – by checking our database
Pricing
Looking for a matched betting service that offers amazing value for money? Look no further.
FREE
FREE
Matched Betting Basics Course
One Bookmaker Tutorial Where You Can Earn Up To $70 Risk-Free
A Lite version of our ATM Oddsmatcher Software
A Basic Matched Betting Calculator To Help You Cash-In Your First Bonus
Access to our 'Free Members Forum' and Facebook Group
No Payment Details Required
PREMIUM MONTHLY
$47
/Month
10 In-depth Matched Betting Courses
ATM Oddsmatcher Software
HorsePower Racing Software
Advanced Dutching Software
Access to our Discord Community
Arbitrage & Bonus Bet Notification Software
Range of Matched Betting Calculators
Promos Database
Downloadable Profit Tracking Spreadsheet
Full Customer Support
No Long-Term Commitment – Cancel Any Time
PREMIUM 6-MONTHLY
$250
/6 Month
10 In-depth Matched Betting Courses
ATM Oddsmatcher Software
HorsePower Racing Software
Advanced Dutching Software
Access to our Discord Community
Arbitrage & Bonus Bet Notification Software
Range of Matched Betting Calculators
Promos Database
Downloadable Profit Tracking Spreadsheet
Full Customer Support
PREMIUM ANNUAL
$450
/Year
10 In-depth Matched Betting Courses
ATM Oddsmatcher Software
HorsePower Racing Software
Advanced Dutching Software
Access to our Discord Community
Arbitrage & Bonus Bet Notification Software
Range of Matched Betting Calculators
Promos Database
Downloadable Profit Tracking Spreadsheet
Full Customer Support
Get In Touch
If you have any questions about bonusbank, matched betting, or anything else, you can contact us here:
Contact Us